PureSpelt donuts
Preliminary time: Leave to rise for 3-4 hours or overnight
Preparation time: approx. 1 hour
For 12-15 donuts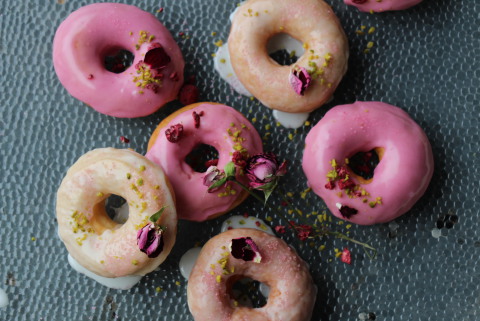 Yeast dough
500 g of PureSpelt white flour
1 teaspoon of salt
50 g of sugar
20 g of yeast, crumbled
Approx. 2.5 dl of milk
75 g of butter, cut into pieces
1 l of deep-frying oil
Glazing
300 g of icing sugar
2-3 tablespoons of water or rose water
2-3 tablespoons of milk
Red food colouring as desired
Dried rose petals, chopped pistachio nuts and freeze-dried raspberries, decorative sugar, to garnish as desired
1
For the yeast dough mix together the flour, salt and sugar. Mix the yeast with the milk, add to the flour with the butter and briefly knead into a smooth dough. Cover and leave to rise for 3-4 hours or overnight in a cool place, punching down 2-3 times at intervals.
2
Roll out the dough to a thickness of approx. 1 cm on a lightly floured surface. Cut out rondelle with a diameter of approx. 9 cm and place them on a baking tray lined with baking paper. Cut out a hole in the center of each rondelle of approx. 3 cms diameter. Knead together the remaining dough, roll out and cut out more donuts. Cover the donuts and allow them to rise for 30-40 minutes.
3
Heat the frying oil to approx. 170°C in a frying pan or deep fryer. Add 2-3 donuts and fry until light brown. Remove the doughnuts using a draining spoon, drain well and allow to cool on a cake grid covered with household paper.
4
For the glaze, mix together the icing sugar, water or rose water and milk. If desired, divide the glazing in half and colour half with food colouring. Dip the doughnuts into the glaze, drain briefly, place on baking paper and garnish as desired. Serve the doughnuts while they are fresh.
Suggestions
If desired, halve the doughnuts crosswise and fill with a thick vanilla cream, jam or whipped cream.
Source:
IG Dinkel, Judith Gmür-Stalder