PureSpelt ginger cheesecake with rhubarb sauce
Preliminary time: Place in a refrigerator for 3-4 hours or overnight
Preparation time: approx. 45 minutes
Baking or cooking time: approx. 50 minutes
For 12-16 slices, springform cake tin of 24 cm Ø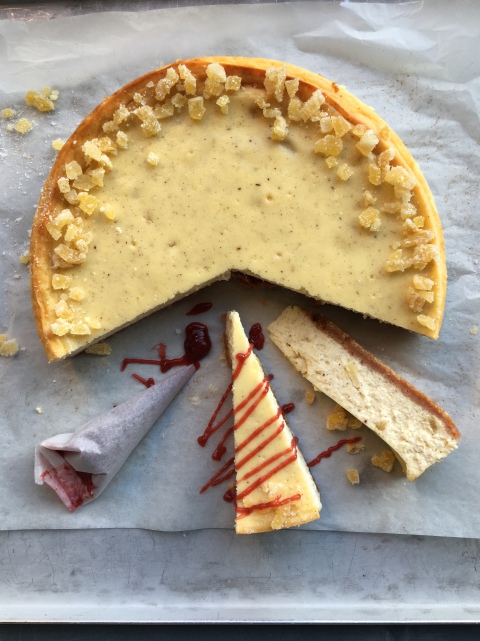 Base
225 g of PureSpelt biscuits, e.g. sable biscuits
75 g of butter, melted
Topping
1 kg of fresh cheese, e.g. Philadelphia, at room temperature
200 g of sugar
1 teaspoon of vanilla extract or vanilla powder
4 eggs
1 dl of cream
75 g of butter, melted, cooled
30 g of candied ginger, finely diced
Rhubarb sauce
300 g of rhubarb, diced
100 g of sugar
1 teaspoon of lemon juice
Decoration
A little candied ginger, finely diced
1
For the base, either use a food processor to grind the biscuits or place the biscuits in a plastic bag and crush them finely using a rolling pin. Mix the biscuit crumbs together with the butter. Line the base of the cake tin with baking paper and spread the mixture evenly over the base. Press down well using the back of a spoon and store in a cool place.
2
Carefully mix all the ingredients for the topping together and pour carefully onto the base in the cake tin. Bake the cheesecake for 50-60 minutes in the lower half of an oven preheated to 150-160°C. Turn off the oven, open the door slightly and allow it to cool completely. Place the cheesecake in a refrigerator to cool for 3-4 hours or overnight, allowing it to set before serving.
3
For the sauce, cook all the ingredients until soft, puree and allow to cool.
4
Shortly before serving, decorate the cheescake, cut into slices and serve together with the rhubarb sauce.
Source:
IG Dinkel, Judith Gmür-Stalder