PureSpelt olive "snails"
Preliminary time: Cool for 5-6 hours or overnight
Preparation time: approx. 50 minutes
Baking or cooking time: approx. 15 minutes
For approx. 60 slices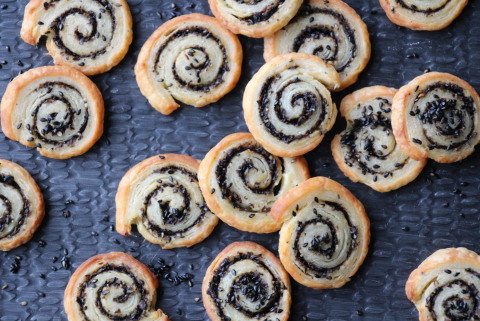 Dough
250 g PureSpelt half white flour
1/2 teaspoon of salt
1/4 teaspoon of baking powder
125 g of butter, cold, cut into pieces
250 g of quark cheese
Filling
100 g stoned black olives
1 clove of garlic
3 tablespoons of black sesame seeds
1 anchovy fillet, to taste
A little grated organic lemon peel
2-3 tablespoons of olive oil
1
For the dough, mix together the flour, salt and baking powder. Add the butter and crumble coarsely with your hands so that pieces of butter are still visible. Add the quark cheese, knead to form a dough, wrap in cling film and leave to cool for 1-2 hours.
2
Remove the dough from the refrigerator and on a surface lightly dusted with flour, roll out into a rectangle of approx. 25 x 40 cm. Fold the dough over so that 3 layers of dough lie on top of each other. Once again wrap in cling film and leave to cool for 1-2 hours.
3
Repeat step 2 once again and then cool the dough for 3-4 hours or overnight.
4
For the filling, chop all the ingredients very finely in a food processor or by hand, or puree.
5
Roll out the dough into a rectangle of approx. 20 x 40 cm on a lightly floured surface. Spread the olive paste thinly onto the dough. Wrap the dough from the long side into a roll and cut into "snails" about 7 mm thick. Place the snails onto a baking tray lined baking paper. Bake the snails in the middle of an oven preheated to 200°C for 12-15 minutes until crispy. Serve warm or chilled.
Suggestions
Before baking, the olive "snails" can be stored in a dry and cool place for 3-4 days. Bake just before serving.
To speed up the preparation, use a shop-bought tapenade (olive paste).
Replace the tapenade with tomato paste or pesto according to taste.
Source:
IG Dinkel, Judith Gmür-Stalder