PureSpelt cornet wafers
Preparation time: approx. 45 minutes
For approx. 16 cornets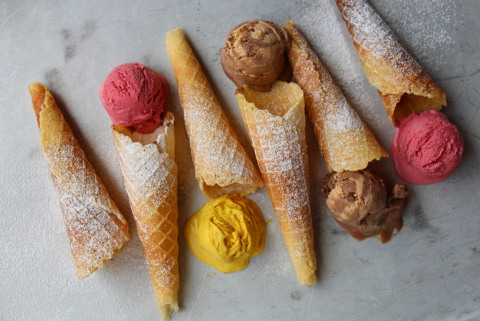 Dough
60 g of butter, melted
125 g of sugar
1 egg
0.75 dl of milk
0.75 dl of water
125 g of PureSpelt half-white or white flour
A little frying fat or oil for the pretzel iron
Decoration
A little icing sugar or liquid cake icing for decoration
1
Dough: Mix all ingredients briefly together to form a smooth dough. Leave the dough to stand at room temperature for a short time.
2
Baking: Preheat the pretzel iron and then grease it lightly. Place 1-2 tablespoons of dough in the middle of the pretzel iron and bake light brown pretzels. Remove the pretzels using a spatula, form them immediately using a wooden or metal cornet mould and leave them to cool on a cake rack. Repeat this process until all of the dough has been used up.
What else do you need?
Pretzel iron for baking and a cone shaped wood or metal form to shape the PureSpelt waffles into cornets.
Source:
IG Dinkel, Judith Gmür-Stalder