PureSpelt chocolate coconut slices
Preparation time: approx. 30 minutes
Baking or cooking time: approx. 25 minutes
For 1 baking tray of approx. 26 x 38 cm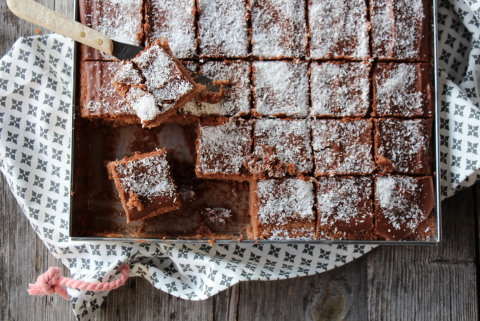 Cake mixture
225 g of butter, cut into pieces
600 g of sugar
3 eggs
2 sachets of vanilla sugar
3 tablespoons of cocoa powder
500 g of PureSpelt semi-white or white flour
1 sachet of baking powder
3.75 dl of water
Icing
175 g of butter, cut into pieces
250 g of icing sugar
3 tablespoons of cocoa powder
5 tablespoons of strong, freshly brewed coffee or espresso
Coconut flakes for sprinkling
1
To make the cake mixture, melt the butter in a frying pan. Stir in the sugar. Add the eggs and stir well. Mix in the vanilla sugar, cocoa powder, flour and baking powder, add the water and mix only briefly to form a smooth dough. Pour the mixture into the baking paper lined baking tray and smooth the surface.
2
Preheat the oven to 190°C. Bake the cake in the middle of the preheated oven for 25-30 minutes. Remove the baking tray from the oven and allow it to cool.
3
For the icing, melt the butter in the pan. Mix in the icing sugar and cocoa powder. Stir in the coffee and spread the icing on the cake. Sprinkle with coconut flakes and refrigerate for 30-60 minutes and leave to set. Cut into slices of any size before serving.
Source:
IG Dinkel, Judith Gmür-Stalder