PureSpelt almond Blitzkuchen (lightning cake)
Preparation time: approx. 25 minutes
Baking or cooking time: approx. 25 minutes
For a baking dish approx. 24 x 32 cm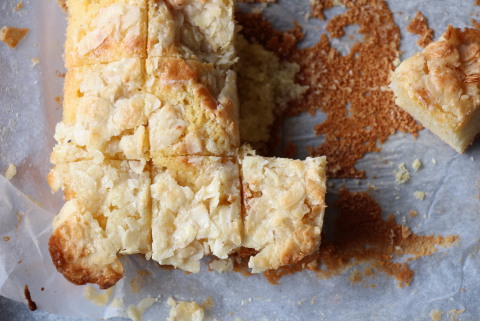 Dough
2.5 dl of cream
175 g of sugar
1 sachet of vanilla sugar
4 eggs
The grated peel of 1 organic orange
300 g of PureSpelt half-white or white flour
1 sachet of baking powder
Topping
125 g of butter, cut into pieces
5 tablespoons of cream
150 g of sugar
1 sachet of vanilla sugar
150 g of flaked almonds
1
To prepare the dough, mix together the cream, sugar, vanilla sugar, eggs and orange peel. Mix in the flour and baking powder, stir in briefly. Pour the dough into the baking dish lined with baking paper and smooth off.
2
To prepare the topping, melt the butter in a pan. Add the cream, sugar and vanilla and stir well. Add the flaked almonds and leave to cool.
3
Baking: Pre-bake the cake in the lower half of an oven preheated to 200°C for 12-15 minutes. Remove from the oven, spread the topping on the cake and complete baking for another 10-15 minutes. Remove from the oven, allow to cool and cut the cake into cubes of your preferred size prior to serving.
Source:
IG Dinkel, Judith Gmür-Stalder