PureSpelt apple crumble tart
Preparation time: approximately 30 minutes
Baking or cooking time: approximately 40 minutes
For 1 springform baking tin of 24 cm diameter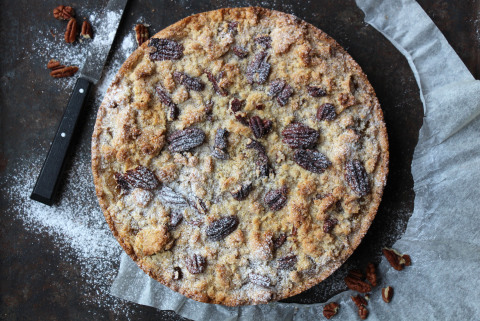 Dough
300 g of PureSpelt half-white or white flour
50 g of ground pecans or almonds
2 pinches of salt
175 g of sugar
1 teaspoon of vanilla sugar
1 1/2 teaspoons of baking powder
100 g of cold butter, cut into pieces
1 egg
Filling
Approx. 450 g of apple puree
Decoration
1 handful of pecans or almonds, possibly coarsely chopped
A little icing sugar
1
For the dough, mix together the flour, nuts, salt, sugar, vanilla sugar and baking powder. Add the butter and then knead to form a crumbly mixture. Spread approx. 2/3 of the mixture in the baking tin lined with baking paper, press it down and then form a raised rim about 3 cm high all around the edge of the baking tin.
2
For the filling, spread the apple puree evenly on the dough base. Crumble the remainder of the dough over it evenly. Sprinkle with pecan nuts and bake the tart in the lower half of an oven preheated to 200°C for 40-45 minutes. Remove the tart from the oven, sprinkle with icing sugar and preferably serve lukewarm.
Suggestions
Serve as desired with crème fraiche, double cream or vanilla ice cream.
Depending on personal taste, pear puree or plum puree can be used instead of apple puree.
Source:
IG Dinkel, Judith Gmür-Stalder