No-bake PureSpelt strawberry cake
Preliminary time: chill for at least 4 hours or overnight
Preparation time: approx. 50 minutes
For a 22 cm diameter springform cake tin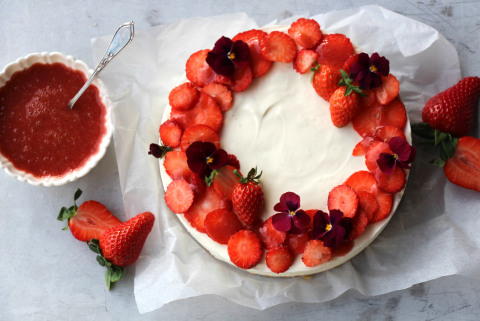 Base
50 g of butter
60 g of white chocolate, chopped
50 g of PureSpelt flakes
3 tablespoons of coconut flakes
20 g of cornflakes, finely crushed
Covering
500 g of quark
75 g of icing sugar
1 sachet of vanilla sugar
1 organic lime, grated peel and 1 tablespoon of juice
5 sheets of gelatine, soaked in cold water
3 dl of full-fat cream, whipped stiff
Decoration
500 g of strawberries, sliced
100 g of strawberry jam
A few edible flowers, according to taste
1
For the base, melt the butter in a saucepan. Add the chocolate and also allow to melt. Mix in the PureSpelt flakes, the coconut flakes and the crushed cornflakes. Spread the mixture evenly in the springform baking tin lined with baking paper, press down well and then place in a cool place.
2
For the topping, stir together the quark, icing sugar, vanilla sugar, lime zest and lime juice to form a smooth paste. Drain the gelatine well and melt in a water bath that is not too hot. Stir 3-4 tablespoons of the quark mixture into the gelatine. Using a whisk and stirring constantly, slowly add the gelatine mixture to the quark mixture. Carefully fold in the cream and pour everything onto the base in the baking tin. Smooth out the topping, cover and leave to cool for at least 4 hours or overnight until it is set.
3
Before serving, remove the spring form and carefully slide the cake onto a plate. Decorate around the edge of the cake with approx. 350 g of strawberry slices and edible flowers. Finely puree the remaining strawberry slices together with the strawberry jam and serve as a sauce with the cake.
Source:
IG Dinkel, Judith Gmür-Stalder