PureSpelt chocolate peanut muffins
Preparation time: approx. 30 minutes
Baking or cooking time: approx. 20 minutes
For approx. 12 muffins, silicone muffin cups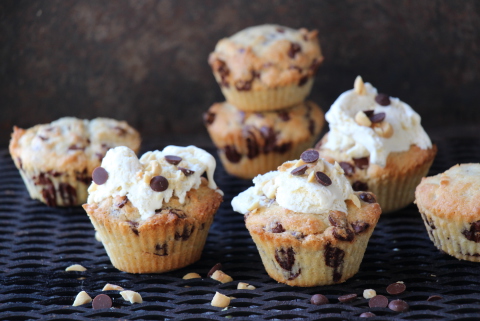 Dough
200 g of butter, soft
100 g of sugar
50 g of raw sugar
1/4 teaspoon of salt
1 teaspoon of vanilla sugar
1 egg
300 g of flour
1/2 teaspoon of baking powder
0.5 dl of milk
150 g of dark chocolate drops or cubes
12 teaspoons of crunchy peanut butter
Decoration
Vanilla or chocolate ice cream
A few chocolate drops or cubes
1
For the dough, stir the butter until peaks are formed. Add the sugar, salt, vanilla sugar and egg; continue to stir until the mixture turns light. Mix together the flour and baking powder and stir into the dough together with the milk. Mix in the chocolate drops thoroughly so they are well distributed. Fill 1 tablespoon of dough into each of the silicon muffin cups. Add a teaspoon of crunchy peanut butter to each cup and cover with the remaining dough. Bake in the middle of the oven preheated to 180°C for 20-25 minutes. Remove the muffins and allow them to cool down.
2
Before serving, place the cookie muffins on plates, garnish with ice cream and chocolate drops and serve immediately.
Suggestions
Serve the muffins with crème fraiche, quark or berry sauce as desired.
The muffins taste great served with tea, coffee or a glass of milk or red wine.
Source:
IG Dinkel, Judith Gmür-Stalder