PureSpelt sweet chestnut tart
Preliminary time: approx. 1 hour cooling time.
Preparation time: approx. 50 minutes
Baking or cooking time: approx. 40 minutes
For 1 springform of 20-22 cm diameter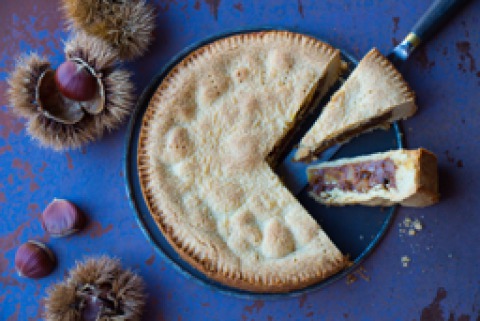 Dough
150 g of soft butter
100 g of sugar
1 pinch of salt
1 teaspoon of vanilla sugar
1 egg
300 g of PureSpelt half-white flour
A little egg-white for brushing the rim
Filling
200 g sugar
1 tablespoon of water
0.5 dl water, boiling
1.5 dl full cream
350 g of frozen sweet chestnuts, defrosted, roughly chopped
1/4 teaspoon of cinnamon
1 teaspoon of vanilla sugar
A few drops of lemon juice
1
For the dough, stir the butter until peaks form. Add the sugar, salt and vanilla sugar. Add the egg and stir until the mixture is light in colour. Mix in the flour, fold briefly to form a dough; do not knead. Cover and keep cool for 1-2 hours.
2
For the filling, caramelize the sugar with 1 tablespoon of water in a chrome steel pan. Deglaze with the hot water, cover immediately and bring to the boil. Dissolve the caramel. Add the cream, chestnuts, cinnamon, vanilla sugar and lemon juice. Reduce to a creamy consistency and allow to cool.
3
Roll out approx. 1/3 of the dough to form a base and another 1/3 to form a cover. Put the dough base into the prepared baking tin. Form the rest of the dough into a roll shape, and roll it out into an edging strip approx. 2 1/2 cm high. Pour in the sweet chestnut filling and smooth it down. Brush the top of the edging strip with a little egg white. Put the lid on and close the rim well using a fork. Prick the lid several times. Bake the tart for 40-45 minutes in the lower half of the oven preheated to 180 °C. Take it out and leave it to cool down.
Source:
IG Dinkel, Judith Gmür-Stalder