PureSpelt cheese crackers
Preliminary time: approx. 2 hours in a cool place
Preparation time: approx. 40 minutes
Baking or cooking time: approx. 12 minutes
For approx. 50 crackers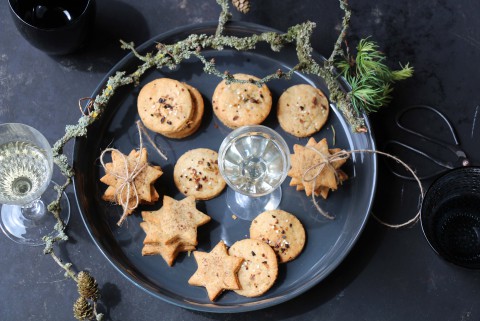 Dough
200 g PureSpelt half-white or Swiss brown flour with 20% grist
130 g of grated Sbrinz cheese
1/2 teaspoon of salt
2 teaspoons of oregano
A little cumin, according to taste
120 g of butter, cold, cut into pieces
1 egg
Decoration
A light sprinkling of sesame seeds, white and black
Chili flakes, according to taste
1
For the dough, mix together the flour, Sbrinz cheese and spices. Add the butter and work until it is finely crumbled. Add the egg and possibly a little water and then fold into a dough; do not knead. Cover the dough and leave in a cool place for 1-2 hours or overnight.
2
Roll out the dough on a little flour to a thickness of approx. 5 mm. Cut out discs or stars and place them on the prepared baking tray; decorate them according to taste and put them in a cool place again for a short time. Bake the crackers for 10-12 minutes in the middle of an oven preheated to 180°C. Remove from the oven and serve lukewarm or when they have cooled down.
Suggestion
If you prefer, form the dough into a roll of about 5 cm diameter, put it in a cool place for 1 to 2 hours and then cut it into slices about 5 mm thick and bake.
Source:
IG Dinkel, Judith Gmür-Stalder