PureSpelt Hazelnut Marble Cake
Preparation time: approx. 30 minutes
Baking or cooking time: approx. 50 minutes
for 1 loaf pan, 28-30 cm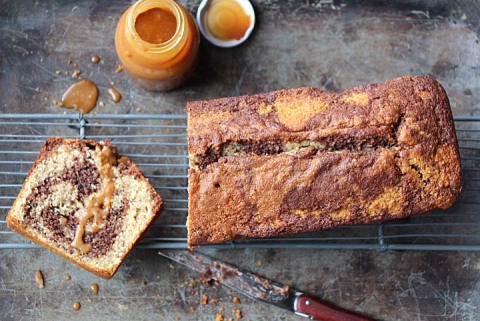 Cake
250 g butter, soft
pinch salt
225 g sugar
4 eggs
250 g ground hazelnuts, toasted and cooled
2 EL hazelnut oil
150 ml milk or buttermilk
250 g PureSpelt half-white or white flour
2 tbsp baking powder
3 tbsp cocoa powder
3 tbsp milk
1
Beat the butter until fluffy, then add the salt and sugar and mix well. Slowly add the eggs and mix until the batter is pale yellow. Stir in the hazelnuts, hazelnut oil and milk. In a separate bowl, mix the flour and baking powder, then stir into the butter mixture. Spread half the batter into the loaf pan lined with baking paper.
2
Mix the cocoa powder with the milk, add it to the rest of the batter and mix well. Add the dark batter to the light batter in the loaf pan, then use a fork to marble the batter and smooth the top. Bake for 45-50 minutes in the lower half of an oven pre-heated to 180°C. Test the cake by inserting a toothpick in the middle; if it comes out clean, the cake is done, but if there are crumbs, leave it in for an additional 5-10 minutes. Remove the cake from the oven and let it cool for a bit, then remove it from the pan and let it cool completely on a cooling rack.
Serve with
Caramel or chocolate sauce, a dollop of whipped cream, or nutty ice cream.
Source:
IG Dinkel, Judith Gmür-Stalder