PureSpelt Red Currant Rolls
Preliminary time: around 3 hours rising time
Preparation time: around 45 minutes
Baking or cooking time: around 35 minutes
for 12 rolls, a 24-26 cm springform pan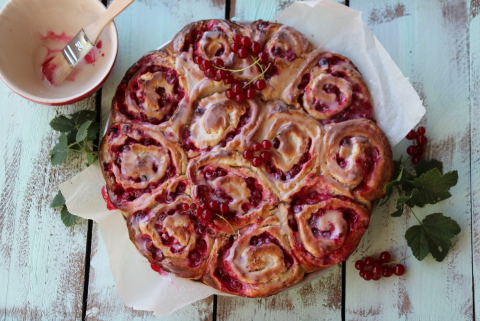 Yeasted Dough
500 g PureSpelt dark flour with grist (Ruchmehl mit Schrot), or half-white flour, or white flour
1/2 tsp salt
75 g sugar
15 g yeast, crumbled
around 200 ml milk
75 g butter, in pieces
2 eggs
Filling
100 g raw sugar, ground
1 tbsp vanilla sugar
2 tbsp cornstarch
200 g cream cheese
325 g red currants
Glaze
75 g icing sugar
around 1 1/2 tbsp milk or lemon juice
1 tbsp red currants, squashed
1
Yeasted Dough: Mix the flour, salt and sugar. Mix the yeast with milk, then add this to the flour with the butter and eggs, briefly mixing until you have a soft, smooth dough. Let the dough rise at room temperature until doubled in size, pressing it down a few times.
2
Filling: Mix the raw sugar, vanilla and cornstarch.
3
To form: Using a little flour, roll out the dough into a 40 x 40 cm square. Spread the cream cheese thinly onto the dough, then top with the sugar mixture and red currants. Roll up the dough. Slice into 12 rolls and place in the prepared form. Cover and let rise for another 30-60 minutes.
4
Bake in the bottom half of an oven preheated to 180 °C for about 30-35 minutes.
5
Glaze: Stir together the icing sugar, milk and squashed red currants, then spread over the still-warm cake. Let cool and enjoy!
Source:
IG Dinkel, Judith Gmür-Stalder