PureSpelt Chestnut Chocolate Cake
Preparation time: approx. 20 minutes
Baking or cooking time: approx. 55 minutes
26-28 cm loaf pan, parchment paper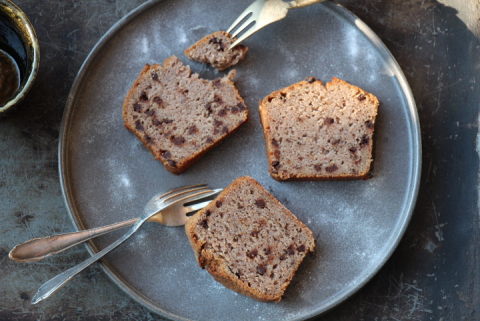 Batter
150 g butter, soft
150 g sugar
pinch of salt
4 eggs
250 g frozen chestnut puree, thawed
100 g ground hazelnuts
100 g dark chocolate, chopped
3 tbsp PureSpelt wholegrain flour
Decoration
icing sugar
1
Batter: beat the butter until fluffy. Add the sugar and salt, then the eggs one at a time, then mix until light and pale. Mix in the chestnut puree and ground hazelnuts. Gently stir in the chocolate and flour, then spread into the prepared loaf pan, smoothing the top.
2
Baking: Preheat the oven to 180 °C. Bake from 50-55 minutes in the bottom half of the oven. Test with a toothpick, and if there are still crumbs clinging to it, bake for an additional 5-10 minutes. Let cool on a cooling rack then, before serving, dust with icing sugar, if desired.
Tips
Wrapped well, the cake keeps for about 4-5 days, or you can freeze it in portions. If desired, you can cover the cake in a dark chocolate glaze.
Source:
IG Dinkel, Judith Gmür-Stalder