PureSpelt Easter Bunny Muffins
Preparation time: approx. 45 minutes
Baking or cooking time: approx. 20 minutes
for 9 bunnies, muffin tin with muffin liners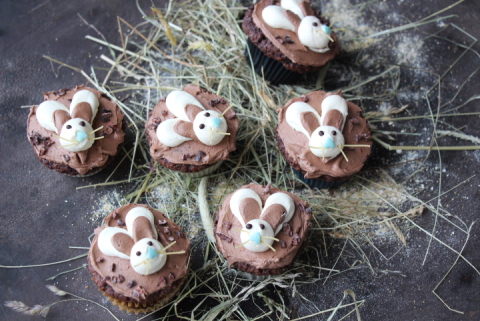 Muffins
60 g butter, soft
125 g sugar
a pinch salt
2 eggs
1 small carrot (approx. 75 g), grated finely
25 g cocoa powder
100 g PureSpelt half white or dark flour (Ruchmehl)
1/2 tbsp baking powder
2 tbsp ground almonds
Buttercream
100 g butter, soft
200 g powdered sugar
1 tbsp vanilla extract
2 tbsp cocoa powder
a little dark chocolate (or glaze), melted
sugar hearts
thin noodles (fideli, spaghettini) for the whiskers
cocoa nibs
1
Batter: Cream the butter, then beat in the sugar and salt. Beat in the eggs until the mixture turns pale. Add the carrots. Mix together the cocoa powder, flour, baking powder and almonds, then stir into the butter mixture. Scoop into the lined muffin tin.
2
Baking: Bake for about 20-25 minutes in the middle of an oven preheated to 180 °C. Remove and let cool.
3
Buttercream: Beat the butter until fluffy. Beat in the powdered sugar until light and fluffy. Mix half of the mixture with vanilla, and the other half with cocoa powder.
4
Decoration: Spread the muffins with the chocolate buttercream. Put the rest each in a piping bag with a large round tip. Decorate the muffins and keep cool until you are ready to serve.
Tips
If there is extra buttercream, you can use it to fill cookies, to spread on bread or Zopf, or to decorate a cake.
Source:
IG Dinkel, Judith Gmür-Stalder