PureSpelt Blueberry Brioche
Preliminary time: Chilling and rising time: overnight
Preparation time: approx. 40 minutes
Baking or cooking time: approx. 20 minutes
makes 18-20, in a square form approx. 8-9 cm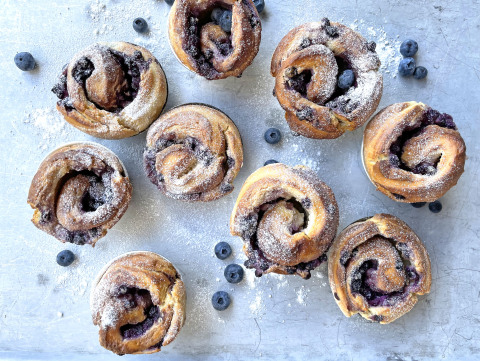 Scalded Grain (Brühstück)
170 ml water
130 g PureSpelt white or half white flour
Dough
400 g PureSpelt white or half white flour
100 ml milk
1 tbsp sugar
15 g yeast
2 eggs
1 tsp salt
125 g butter, cold, in pieces
Filling
125 g mascarpone
125 g crème fraîche
50 g sugar
1 tsp cinnamon
250 g blueberries

icing sugar for dusting
1
Scalded grain: Boil the water, then pour the boiling water into the flour while stirring constantly; continue to stir until the mixture is smooth and compact. Allow the mixture to cool, cover, and place in the fridge overnight.
2
Dough: place the flour in a bowl and make a well in the middle. In a separate bowl mix together the milk, sugar and yeast, pour into the well and, mix with a bit of flour until the liquid has thickened, then cover with flour and let rise until it starts to foam. Knead in the scalded grain, then the eggs and salt. Slowly add the butter in pieces, kneading briefly until you have a soft, smooth dough. Cover and let rise at room temperature for an hour. Then place the dough in a cool place for 4-6 hours or in the fridge overnight, until it doubles in size, pressing it down 1-2 times as it rises.
3
Filling: mix the mascarpone, crème fraîche, sugar and cinnamon until smooth.
4
Using a bit of flour, roll out the dough to a large rectangle approx. 28 x 80 cm. Spread the filling over and top with blueberries. Roll the dough up from the long side and cut 18-20 rolls. Place in the buttered form and let rise for an additional 20-30 minutes.
5
Baking: Bake in the middle of an oven preheated to 180 °C for 20-25 minutes or until golden. Dust with icing sugar before serving.
Source:
IG Dinkel, Judith Gmür-Stalder