PureSpelt Chocolate Blackberry Cake
Preparation time: approx. 30 minutes
Baking or cooking time: approx. 60 minutes
Makes one 26-28 cm loaf cake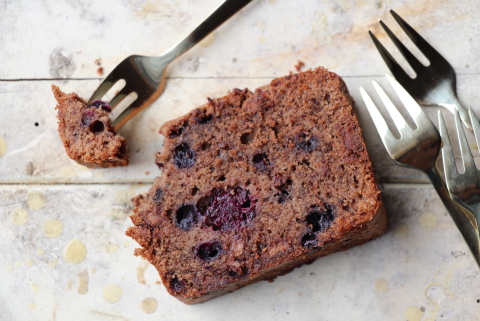 Batter
175 g butter, soft
200 g sugar
pinch salt
4 eggs
250 g PureSpelt half white or white flour
1 1/2 tsp baking powder
25 g cocoa powder
100 ml whipping cream
50 g dark chocolate, chopped
100 g milk chocolate, chopped
300 g berries, e.g. blackberries and/or blueberries
1
Cream the butter until fluffy, then add the sugar and salt. Beat in the eggs one at a time, until the mixture is light in colour. Mix together the flour, baking powder and cocoa powder, then add it, along with the whipping cream and chocolate. Mix shortly until you have a smooth batter. Mix in the berries and spread into the prepared form.
2
Bake the cake for 55-60 minutes in the bottom half of an oven preheated to 180 °C. Test with a toothpick, and if it comes out clean, remove the cake from the oven. Let cool shortly, then remove it from the form and let cool completely on a cooling rack.
Tips
You can use different berries or a berry mix, depending on the season. You can also use frozen berries, which increase the baking time by about 5-10 minutes. Covered and kept cool, the cake keeps for about 4-5 days.
Source:
IG Dinkel, Judith Gmür-Stalder