PureSpelt Lebkuchen from Lucerne
Preparation time: approx. 25 minutes
Baking or cooking time: approx. 40 minutes
24 cm springform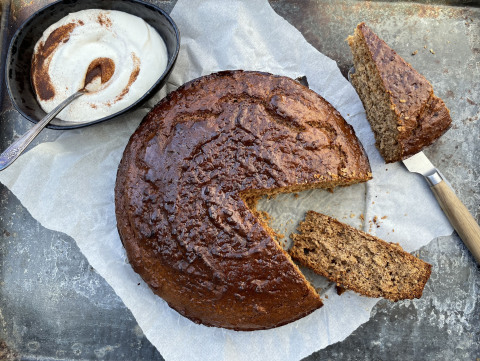 Batter
200 ml milk
100 g butter, in pieces
150 g honey or Birnendicksaft (pear honey)
75 g sugar
2 tbsp Lebkuchen spice mix (or gingerbread spice mix)
1 tbsp lemon juice
5 g baking powder
2 tbsp quark or sour cream
100 g ground hazelnuts
350 g PureSpelt dark flour (Ruchmehl)
Glaze
1 tbsp honey or Birnendicksaft (pear honey)
a little water
1
For the batter: warm the milk in a pot, then add the butter and, while stirring, let it melt. Add the honey, sugar, Lebkuchen spice, lemon juice and baking soda, and mix well. Add the rest of the ingredients and briefly mix to a smooth dough.
2
Line the springform pan with parchment paper and grease the sides. Add the batter and smooth out the top.
3
Bake in the bottom half of an oven preheated to 180 °C for about 40-45 Minuten. Take the Lebkuchen out of the oven and remove it from the form.
4
Glaze: Mix together the honey or Birnendicksaft (pear honey) with a little water, then spread over the still warm Lebkuchen. Enjoy still warm or cooled down.
Tips
If desired, you can serve the Lebkuchen with cinnamon-flavoured whipped cream, or butter. The Lebkuchen tastes best when it is freshly baked. Well-wrapped, it keeps 4-5 days in a cool place or you can portion and freeze it. If desired, you can cut the Lebkuchen in slices and warm it in a greased frying pan or the toaster.
Source:
IG Dinkel, Judith Gmür-Stalder