PureSpelt Tart Dough
Preliminary time: approx. 40 minutes cooling time
Preparation time: approx. 20 minutes
Baking or cooking time: approx. 35 minutes
for a 28-30 cm tart pan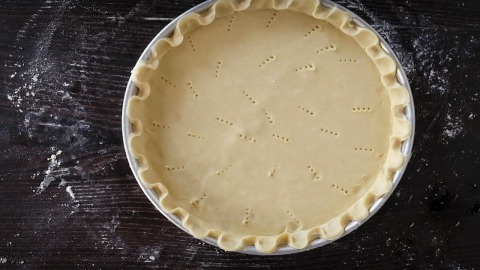 Dough
250 g PureSpelt flour (white, half-white, or dark)
1/2 tsp salt
125 g butter, cold, in pieces
1 tsp vinegar
approx. 75 ml water, cold

some PureSpelt flour for forming
1
For the dough: mix together the flour and salt in a bowl. Add the butter and rub into the flour until you have fine crumbs. Add the water and vinegar and briefly gather into a dough. Cover and cool in the fridge for 30 minutes.
2
To form: using a little flour, roll out the dough to 3-4 mm thick. Sprinkle a little flour on top of the dough, then fold it in half and then quarters. Transfer to the tart pan, placing the tip in the middle of the pan and unfold it, pressing it into the pan. Be sure to press the dough down well so it doesn't shrink when baking.
3
If desired, form a scalloped edge—press two fingers into the dough, toward the edge of the pan, and press another finger in between, in the opposite direction. Let cool again, and before you add the topping, prick the bottom of the dough all over with a fork.
Fruit tart
Spread the bottom with 50 g ground nuts and top with around 600 g berries or 800 g - 1 kg sliced fruit (e.g. apple, apricot, pear). Add a custard (150 ml milk, 100 ml cream, 75 g sugar, 1 tsp vanilla, and 3 eggs) then bake.
Savoury tart
Fill the tart base with shredded vegetable (carrot or zucchini), or boiled potatoes and bacon, or blanched peas and onions. Add a custard (250 ml milk, 1 tbsp cornstarch, 3 eggs, salt, pepper and herbs) and approx. 75 g grated cheese, then bake.
Tips
You can substitute half the flour for PureSpelt whole wheat flour.

You can prepare a double or triple batch, then freeze it in portions. Let the dough thaw in the fridge, then use as directed above. Or you can roll out the prepared dough, place it in three tart pans and freeze these. You can directly top this and place it in the oven, but increase the baking time by about 5-10 minutes.

For a crispy tart bottom, preheat a baking sheet in the bottom part of the oven, ideally on a pizza setting (convection and bottom heat combined). Top your tart, and then place it directly on the baking sheet and bake for about 30-40 minutes.
Source:
IG Dinkel, Judith Gmür-Stalder