PureSpelt Christmas Cake
Preparation time: approx. 50 minutes
Baking or cooking time: approx. 40 minutes
makes 12-16 pieces, for a 22-24 cm springform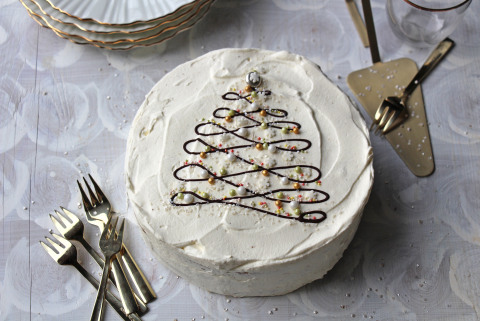 Sponge
5 egg whites
pinch salt
125 g sugar
5 egg yolks
125 g PureSpelt white or half-white flour
2 tbsp cocoa powder
30 g butter, melted and cooled
Filling
50 ml whipping cream
125 g dark chocolate, chopped
1 tsp cinnamon
the zest of half an organic orange
250 ml whipping cream
Garnish
250 ml whipping cream
1 package of vanilla sugar
some dark chocolate glaze (prepared according to package instructions)
sprinkles
1
For the sponge, beat the egg whites and salt until stiff. Add the sugar slowly and keep beating until the mixture is thick and shiny. Briefly fold in the egg yolks. Sift together the flour and cocoa powder and carefully fold in, with the butter. Spread the batter into the prepared springform pan, smoothing the top.
2
Baking: baking the sponge in the bottom half of an oven preheated to 180 °C for 35-40 minutes. Remove and let cool. Cut the sponge twice horizontally into three equal layers.
3
For the filling: bring 50 ml cream to a boil. Remove from the heat and add the chopped chocolate. Whisk until melted and smooth. Add the orange zest and the rest of the cream and let rest in the fridge for 3-4 hours or overnight. Shortly before filling the cake, use an electric mixer with a whisk attachment to beat the chocolate cream until stiff.
4
Place the sponge bottom on a plate, and top with half of the chocolate filling. Place the middle round on top, spread the rest of the chocolate filling on top, then place the remaining sponge on top. Let cool briefly.
5
Garnish: beat the whipping cream and vanilla sugar until stiff and spread around the cake at random. Snip away a corner from the chocolate glaze package and pipe a Christmas tree on top of the cake, then decorate with sprinkles.
Tips
If desired, you can spread some marmalade on the sponge layers, or soak with Grand Marnier or Cointreau.
For a fruitier cake, add 2-3 filleted oranges to the filling.
You can prepare the sponge and filling a day in advance. Depending on the sprinkles, add these shortly before serving.
Source:
IG Dinkel, Judith Gmür-Stalder