PureSpelt Apple Flowers
Preparation time: approx. 30 minutes
Baking or cooking time: approx. 20 minutes
makes approx. 12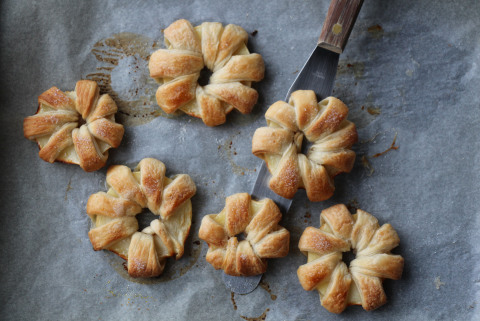 Apples
2 large apples, each approx. 230 g
2 tbsp lemon juice or Calvados
a little cinnamon, if desired
approx. 250 g PureSpelt butter puff pastry
some flour for rolling out
2-3 tbsp sugar, or pearl sugar to decorate
1
You want to make rings—so peel and core the apples, leaving them whole, then cut approx. 12 rings. Marinate them in a little lemon juice or Calvados, and cinnamon, if desired.
2
Forming: using a little flour, roll out the dough to about 3mm. Cut into strips of about 15 mm and wrap the dough around the apples. Place the apple flowers on a parchment-covered baking sheet and sprinkle with sugar or pearl sugar.
3
Baking: Bake the apple flowers in the bottom of an oven preheated to 200°C for about 20-25 minutes. Remove and serve lukewarm or cooled.
Info
If desired, serve with whipped cream, vanilla ice cream, vanilla sauce or a dollop of crème fraîche.
Before baking, you can brush the apple flowers with whisked egg and top with flaked almonds and sugar.
You can substitute the apples for pears and serve with chocolate sauce.
Source:
IG Dinkel, Judith Gmür-Stalder