PureSpelt Puff Pastry (base recipe)
Preparation time: approx. 1 hour
Baking or cooking time: approx. 12 hours chilling time
makes approx. 1 kg dough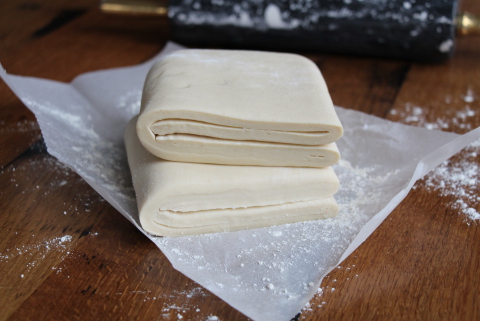 Dough
500 g PureSpelt half white or white flour
1 1/4 tsp salt
150 g butter, cold, in pieces
175 ml water, cold
1 tbsp apple cider vinegar
For Turning
150 g butter
1
For the base dough, mix together the flour and salt. Add the butter and use your hands to rub it into the flour until crumbly. Add the water and vinegar and briefly mix together—do not knead. Cover and chill briefly.
2
To prepare the butter for the turning, cut it into thick equal pieces, and place on parchment paper to form a rectangle measuring approx. 12 x 20 cm. Using a knife, spread the butter pieces together. Briefly chill.
3
For turning: Using a little flour, roll out the dough to a rectangle measuring approx. 22 x 28 cm. Lay the butter on one half of the dough, folding the rest of the dough over top and pressing it closed. Hit the dough lightly with a rolling pin, so that the dough and butter fuse together. Cover and chill for about 30-60 minutes.
4
Take the dough out of the fridge, and use some flour to roll it out to a thickness of 8-10 mm. Brush away any excess flour and give the dough a double fold. To do this, fold both shorter sides into the middle of the dough and fold the whole thing in half, so that there are 4 dough layers on top of each other. Cover and chill for 30-60 minutes. Repeat this step 4-5 more times, always chilling in between. Finally, cover the dough and let it rest and chill overnight (as it is ready to be used and baked only on the next day).
Tips
Homemade puff pastry tastes wonderfully buttery and gets exceptionally crispy. You can use it for both sweet and savoury baked goods.

It worth making a double batch—the bigger the batch, the more even the puff pastry will be.

You can freeze puff pastry in batches, and it keeps 3-4 months.

Make sure that rolled out puff pastry scraps are always piled up in layers and rolled out again when cooled, so that the layering also stays nice and even during the second forming.

Do not brush the edges of the processed pastry with egg wash, otherwise the it will rise unevenly during baking and the layers will stick together.
Source:
IG Dinkel, Judith Gmür-Stalder