PureSpelt Carrot Cake
Preliminary time: approx. 12 hours 'infusing' time
Preparation time: approx. 1 hour
Baking or cooking time: approx. 55 minutes
24 cm springform pan, serves 16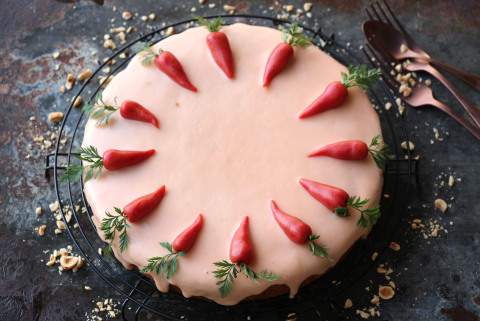 Batter
150 g butter, soft, in pieces
125 g cane sugar, ground
5 egg yolks
the zest from 1 organic lemon
1 tsp cinnamon
150 g roasted hazelnuts, ground
300 g carrots, grated finely
5 egg whites
pinch salt
50 g cane sugar, ground
175 g PureSpelt half white or dark flour (Ruchmehl)
7 g baking powder
Glaze
2-3 tbsp apricot jam, strained
250 g icing sugar
approx. 4 tbsp carrot or orange juice
Garnish
100 g orange marzipan
some carrot fronds
2-3 tbsp roasted hazelnuts, chopped (if desired)
1
Batter: cream the butter, then beat in the sugar and yolks, beating until it is light and fluffy. Mix in the lemon zest, cinnamon, hazelnuts and carrots. Whip the egg whites and salt until soft peaks, then slowly add the sugar and whip until the mixture is stiff and shiny. Fold into the carrot mixture. Sift together the flour and baking powder, then carefully fold this into the carrot mixture. Scrape into the prepared form.
2
Baking: Bake for 50-55 minutes in the bottom half of an oven preheated to 180 °C. Test for doneness, and if it is done, remove and let cool. If possible, cover and let cool overnight in the fridge to allow the flavours to mingle.
3
Glaze: Place the cake on a cooling rack and brush with the apricot jam. Let cool for 30 minutes. Mix the icing sugar with the carrot (or orange) juice to make a thick glaze. Pour over the middle of the cake, spreading to the sides.
4
Garnish: form carrots with the marzipan, using the fronds to make their stems, then decorate the cake.
Tips
Covered and cool, the carrot cake keeps 4-5 days.
If desired, you can use kirsch, Grand Marnier or lemon juice in the glaze.
If you want something even more special, add a pinch of nutmeg to the batter.
Source:
IG Dinkel, Judith Gmür-Stalder