PureSpelt Skillet Orange Cinnamon Rolls
Preliminary time: approx. 28 hours chilling and resting time
Preparation time: approx. 60 minutes
Baking or cooking time: approx. 40 minutes
approx. 24 cm cast iron skillet, parchment paper or butter for the skillet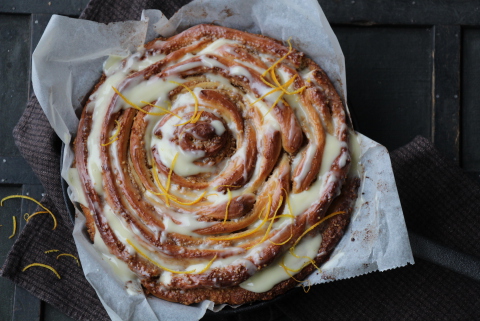 Scalded Grain (Brühstück)
100 g PureSpelt half white or white flour
150 g water
Dough
400 g PureSpelt half white or white flour
1/2 tsp salt
50 g sugar
5 g yeast
approx. 225 ml milk
60 g butter, in pieces
Filling
75 g ground almonds or hazelnuts
75 g sugar
75 g butter, melted
1 organic orange, zest and 2 tbsp juice
2 tsp cinnamon
Frosting
50 g butter, soft
50 g icing sugar
60 g cream cheese
organic orange zest to garnish
1
Scalded grain: Boil the water, then pour the boiling water into the flour while stirring constantly; continue to stir until the mixture is smooth and compact. Allow the mixture to cool, cover, and place in the refrigerator overnight.
2
Dough: mix the flour and salt, then form a well in the middle. Add the yeast, milk and butter. Add the scalded grain and briefly knead into the dough, then knead briefly until you have a smooth dough. Leave the dough at room temperature for about 3-4 hours pressing down and folding occasionally.
3
Filling: mix all ingredients well.
4
Forming: Using a little flour, roll out the dough to a rectangle of about 35 x 40 cm. Spread the filling and cut into strips about 4 cm wide. Roll one strip into a cinnamon roll shape and place in the center of a parchment-lined, or buttered, baking pan. Keep wrapping strips of dough around the first roll to make a large cinnamon roll. Cover and let rise for 40-50 minutes so that the dough almost fills the pan.
5
Baking: bake the roll in the bottom half of an oven preheated to 180 °C for 35-40 minutes. Remove from oven and let cool only briefly.
6
Frosting: mix the ingredients well and spread over the still warm roll. Garnish with zest and serve warm or cooled.
Tips
This cinnamon roll tastes best still warm from the oven. If you have leftovers, you can also warm them briefly in a frying pan before serving.
Source:
IG Dinkel, Judith Gmür-Stalder