PureSpelt King's cake with grain mash
for 2 cakes, each with 8 pieces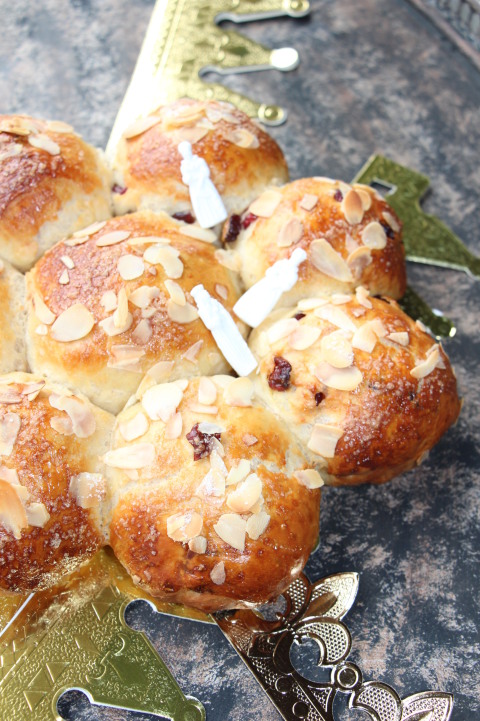 Grain mash
1.7 dl of water
130 g of PureSpelt half-white or white flour
Dough
500 g of PureSpelt half-white or white flour
1 ½ teaspoons of salt
20 g of yeast, crumbled
2 dl of milk
Approx. 0.75 dl of water
50 g of butter, cold, diced
100 g of raisins, dried fruits or chocolate; chopped

1 egg yolk mixed with a little milk
Almond flakes and raw or crystal sugar for decoration
1
Grain mash: Boil the water and while it is still boiling hot add it to the flour while stirring constantly. Continue to stir until the mixture is smooth and compact. Allow the grain mash to cool. Cover and place in the refrigerator overnight.
2
Dough: Mix together the flour and the salt, form a hollow in the mixture. Dissolve the yeast in the milk and water and pour into the hollow in the flour. Pinch off the grain mash, add the pieces to the flour and mix briefly together. Add the butter and knead briefly to form a wet, smooth dough. Briefly stir in the chopped raisins, dried fruits or chocolate, cover the dough and leave it to rise at room temperature until it has doubled in volume.
3
Punch down the risen dough and leave to rise for a further 20-30 minutes.
4
Divide the dough into 16 equal pieces and form each piece into a ball. Insert a King (a small plastic figure, an almond or a bean) into two of the balls. For each cake take 7 balls and one "King's ball" and lay them in a wreath shape on a baking tray lined with baking paper. Brush with the egg yolk and then leave to rise for a short period. Brush again with egg yolk and sprinkle with almond flakes, raw or crystal sugar.
Baking
Place the King's cakes in an oven preheated to 230°C. Reduce the temperature to 190°C and bake for 25-30 minutes. Remove from the oven and place on a cooling grid to cool.
Source:
IG Dinkel, Judith Gmür-Stalder