PureSpelt prune-chocolate brioche
for 1 cake tin 30-32 cm in length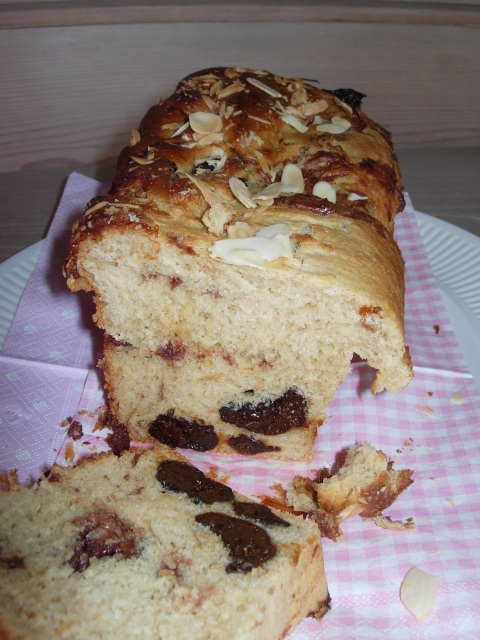 200 g soft prunes, de-stoned
0,5 dl of orange juice
400 g PureSpelt white flour
1 teaspoon of salt
75 g of sugar
1 teaspoon of cinnamon
30 g yeast, crumbled
Approx. 1,5 dl of milk
100 g of butter, melted, cooled
2 eggs, whisked
150 g of chocolate, dark or milk chocolate, chopped
2 tablespoons of flaked almonds

Icing sugar for sprinkling
1
Marinate the prunes in the orange juice for 2-3 hours.
2
For the dough, mix together the flour, salt, sugar and cinnamon, form a hollow. Mix the yeast with the milk, pour into the hollow together with the butter and the eggs, knead into a soft, elastic dough. Cover and allow it to rise at room temperature for 2-3 hours until it has doubled in volume.
3
Mix the softened, marinated prunes into the dough. Transfer the dough into the cake tin lined with baking paper. Cover and allow to rise for a further 30 minutes.
4
Sprinkle the surface of the dough with flaked almonds.
Baking
Bake for 40-45 minutes in the lower half of an oven preheated to 180°C. Remove and place the cake tin on a grid and allow to cool for a short time before carefully removing from the tin, allow to cool. Before serving dust the Brioche with icing sugar according to taste.
Source:
IG Dinkel, Judith Gmür-Stalder