PureSpelt tartlets with string beans and bacon
Preliminary time: approx. 30 minutes
Preparation time: approx. 30 minutes
Baking or cooking time: approx. 25 minutes
For 8 tartlet baking dishes of approx. 9 cm diameter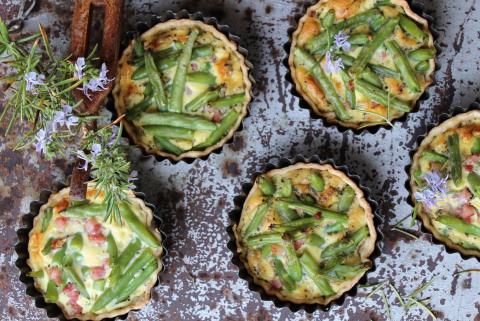 Dough
200 g of PureSpelt brown flour or half-white flour with 20% grist
1/2 teaspoon of salt
50 g of butter, cold, cut into pieces
5-6 tablespoons of cold water
Filling
Approx. 300 g of string beans, blanched
75 g of finely diced ham
1 clove of garlic, pressed
1 teaspoon of finely chopped summer savory or rosemary
Topping
2 eggs
1.5 dl of single cream
1 tablespoon of PureSpelt brown flour or half-white flour with 20% grist
Salt, freshly milled pepper
Summer savory or rosemary for garnishing
1
For the dough, mix together the flour and the salt. Add the butter and using your hands work the mixture until it is fine and crumbly. Add the water and fold together to form a smooth dough; do not knead the mixture. Cover the dough and place in the refrigerator for approx. 30 minutes.
2
For the filling, mix together the blanched string beans, diced ham and finely chopped savory or rosemary.
3
For the topping, mix together all the ingredients.
4
Roll out the dough on a lightly floured surface. Cut out 8 dough circles of between 12 and 13 cm diameter. Lay them in the buttered tartlet baking dishes and prick each dough base several times using a fork.
5
Spread the bean mixture evenly over the 8 dough tartlet bases.
6
Pour the topping mixture evenly over the 8 tartlets.
Baking
Bake for 20-25 minutes on the lowest shelf in an oven preheated to 220°C.
Source:
IG Dinkel, Judith Gmür-Stalder