PureSpelt spaghetti with lentil garlic pesto
Preparation time: approx. 35 minutes
to serve 4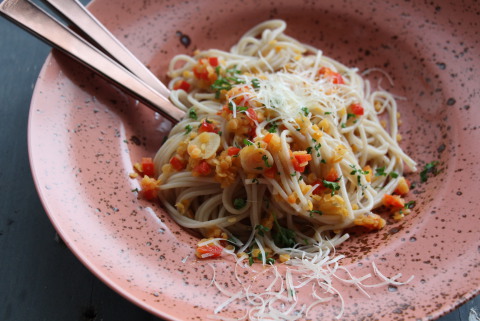 Lentil garlic pesto sauce
100 g of red lentils
2-3 cloves of garlic, sliced
1 tablespoon of rapeseed or olive oil to sauté
1 red pepperoni, finely diced
Approx. 1.5 dl of vegetable stock
1/2 bunch of basil or parsley, finely chopped
Salt, pepper from the mill
3-4 tablespoons rapeseed or olive oil
PureSpelt spaghetti
400 g of PureSpelt spaghetti
Salted water
Parsley or basil to garnish
Sbrinz AOP cheese, freshly grated
1
For the pesto sauce, cook the lentils in boiling water for 12-15 minutes, drain, rinse using hot water and drain well. Sauté the garlic in a tablespoon of oil. Add the pepperoni and sauté briefly. Deglaze using the vegetable stock. Mix in the lentils and herbs, season to taste. Mix together with 3 to 4 tablespoons of oil.
2
Cook the PureSpelt spaghetti in boiling salted water until al dente and then drain well.
3
Mix the PureSpelt spaghetti with the pesto sauce, spread on preheated plates, garnish and serve together with the grated Sbrinz cheese.
Source:
IG Dinkel, Judith Gmür-Stalder