PureSpelt pasta casserole
Preparation time: approx. 30 minutes
Baking or cooking time: approx. 40 minutes
to serve four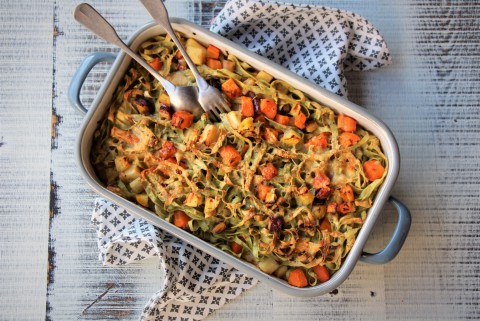 Pasta
250 g PureSpelt pasta, e.g. herb tagliatelle
Salted water
2 tablespoons of butter
1 onion, finely chopped
1 clove of garlic, pressed
800 g of mixed root vegetables, e.g. Pfälzer carrots, carrots, parsnips, turnips and/or black salsify, peeled and cut into small pieces
Approx. 1 dl of vegetable stock
2-3 juniper berries, finely chopped, as desired
Salt and pepper to taste
Topping
4 eggs
2.5 dl of semi cream
1 dl of carrot juice from the bottle
1 teaspoon of salt
A little nutmeg
Pepper from the mill
50 g of Gruyère, grated
1
Cook the pasta in salted water until al dente, drain, rinse with cold water and leave to drain. Butter the casserole dish with a little butter. Warm the remaining butter and sauté the onions and garlic. Add the vegetables and sauté briefly. Add the vegetable stock. Cover and cook until soft. Season to taste. Mix the vegetables with the pasta and pour into the baking dish.
2
For the topping, stir together the eggs, the semi cream and the carrot juice, season to taste. Pour over the pasta vegetables. Sprinkle with cheese.
3
Gratinate: Gratinate the casserole in the middle of the oven preheated to 180 °C for 40-45 minutes.
Suggestions
Instead of root vegetables use other seasonal vegetables.
Use the remaining carrot juice from the bottle for an aperitif drink. Mix 4 dl of carrot juice with 2 dl of apple juice, season using a little cinnamon, pepper and olive oil. Pour over ice cubes and serve well chilled.
Or make a bread dough with the remaining carrot juice from the bottle. Replace the water for the dough with carrot juice. Add grated carrots and chopped nuts to the dough.
Source:
IG Dinkel, Judith Gmür-Stalder