PureSpelt minestrone soup
Preliminary time: soaking over night
Preparation time: approx. 30 minutes
Baking or cooking time: approx. 30 minutes
to serve 4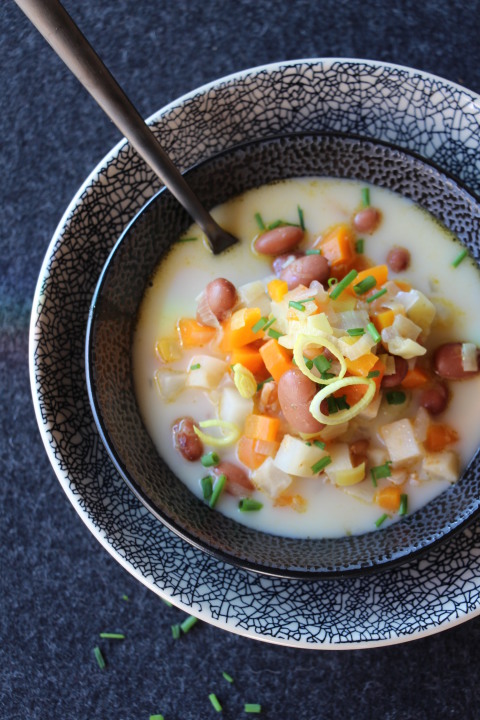 100 g of PureSpelt grains
75 g of borlotti beans
1 onion, cut in half and each half spiked with bay leaves and cloves
200 g of carrots, diced
100 g of leek, cut into strips
100 g of celery, cut into strips
1 tablespoon of butter
Approx. 1 liter of vegetable stock
3 dl of milk
Salt, pepper from the mill
A little leek for garnishing
Sbrinz cheese, freshly grated
1
Soak the PureSpelt grains overnight in 2 dl of water. Soften the beans overnight in cold water. Bring the beans to boiling point, pour off the soaking water and rinse the beans using hot water. Add the beans to approximately 4 dl of fresh water and once again bring to the boil. Cook them on a low heat for 45 minutes until they are just about soft; drain off the water.
2
Sauté the onion halves and the vegetables in the warm butter, add the beans and continue to sauté for a short time. Drain the water from the PureSpelt grains and sauté them briefly with the beans. Deglaze using the vegetable stock. Half-cover the pan and allow to cook for approximately 30 minutes. Pour on the milk and allow to cook briefly. Season the soup, garnish and sprinkle with grated Sbrinz cheese according to taste.
Suggestions
Depending on the season, use other vegetables. Use kidney beans or lentils instead of borlotti beans. Use cream instaed of milk. Additionally, crisp-fry 100 g of bacon cubes and add them to the finished soup. PureSpelt bread is an ideal accompaniment for the soup.
Source:
IG Dinkel, Judith Gmür-Stalder