PureSpelt Sbrinz cheese and tomato canapés
for approx. 60 canapés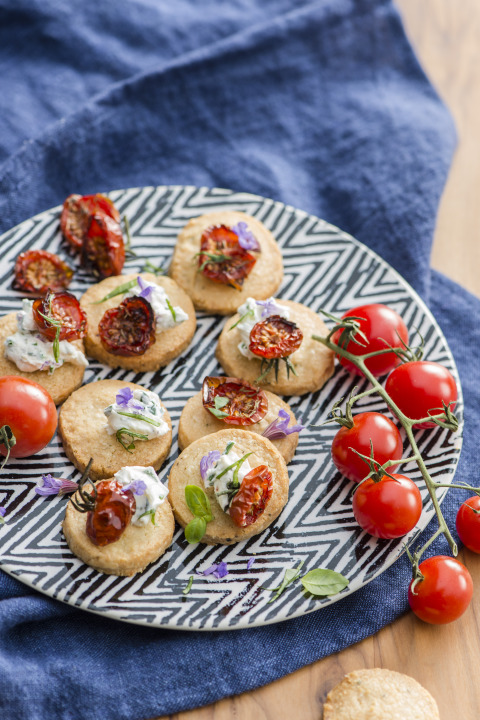 Baking paper to line the baking tray
Tomatoes
500 g of cherry tomatoes, approx. 30, halved
1 teaspoon of salt
1-2 teaspoons of sugar
Pepper
4-5 tablespoons of olive oil
1 garlic clove, pressed
1 tablespoon of thyme leaves
Sbrinz cheese canapés
300 g of PureSpelt half-white flour with 20% grist
½ teaspoon of salt
1 tablespoon of basil, finely chopped
200 g of butter, cold, cut into pieces
100 g of Sbrinz cheese, grated
3-4 tablespoons of cream

Herb cream cheese, basil and edible flowers to garnish
1
Lay the cherry tomato halves with the cut side upwards on a baking-paper lined baking tray. Sprinkle with salt, sugar and pepper. Mix the olive oil together with the remaining ingre and dribble over the tomato halves. Place the baking tray in the middle of an oven preheated to 160°C and with the oven door slightly open allow to dry for 1-1 1/2 hours.
2
Sbrinz cheese canapés: Mix together the flour, salt and basil. Add the butter and using your hands rub until the mixture has a crumbly consistency. Mix in the grated Sbrinz cheese, add the cream and fold in to form a smooth dough; do not knead. Form the dough into 2-3 rolls, each with a diameter of approx. 4 cm. Wrap the rolls in plastic film and place in the refrigerator to cool for 1-2 hours or leave in a cool dry place overnight.
3
Cut the dough rolls into 5-7 mm thick slices and lay the slices on a baking tray lined with baking paper.
4
Remove the tomatoes from the oven and allow to cool slightly.
Baking
Preheat the oven to 200°C. Bake the Sbrinz canapés in the middle of the preheated oven for 12-15 minutes until they are light brown. Remove from the oven, garnish with a little herb cream cheese, dried tomatoes, basil and flowers.
Suggestions
The Sbrinz cheese canapés can be stored in a cool dry place for 3-4 days. Deep freeze in suitable portions and prior to serving briefly bake in a preheated oven. Alternatively, spread the canapé lightly with a little basil pesto or tapenade before garnishing with the tomatoes.
Source:
IG Dinkel, Judith Gmür-Stalder