PureSpelt radish tarts
for 8 tarts each of approx. 10 cm diameter, pastry cutter approx. 14 cm diameter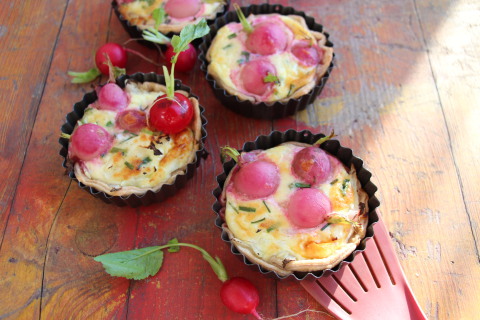 Dough
300 g of PureSpelt half-white flour
1/2 teaspoon of salt
100 g of butter, cold, cut into pieces
1 tablespoon of vinegar
Approx. 1 dl of water

Butter for the baking trays
Filling
1 Kohlrabi (turnip cabbage), approx. 250 g, peeled and grated using a rösti grater
2-3 bundles of small radishes, with a little green attached
Topping
1 dl of milk
1 dl of cream
2 eggs
50 g of Gruyere cheese, grated
1 bunch of chives, finely chopped
Salt, pepper to taste
1
Dough: Mix together the flour and the salt, add the butter and rub using your hands to form a fine crumbly mixture. Add the vinegar and the water and fold together to form a dough, do not knead the dough. Cover the mixing bowl and stand in the refrigerator for approx. 30 minutes.
2
Using a sprinkling of flour, roll out the dough. Cut out the circles using the cutter and lay them in the buttered baking trays. Use a fork to prick the dough bases several times. Distribute the grated kohlrabi evenly on the dough bases and then stick in the radishes.
3
Topping: Mix together all the ingredients and then pour carefully over tarts.
Baking
Bake for 25-30 minutes in the bottom half of an oven preheated to 200°C. Remove from the oven and serve either hot or luke warm.
Source:
IG Dinkel, Judith Gmür-Stalder