PureSpelt tortilla chips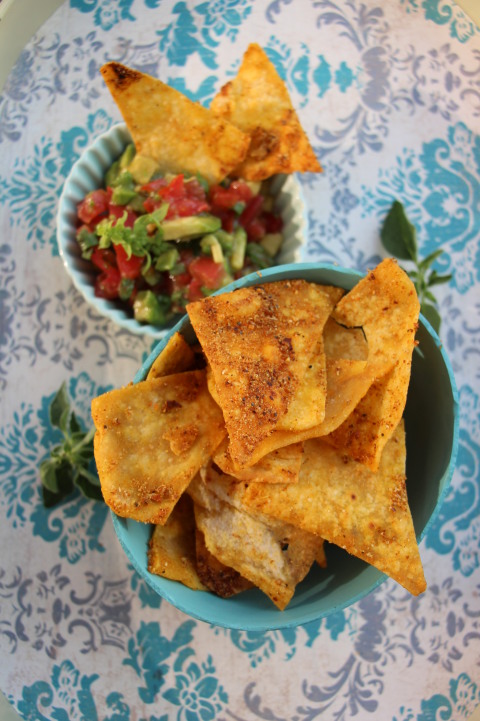 Baking paper for the baking trays
Dough
125 g of PureSpelt white flour
50 g corn meal
¼ tablespoon of salt
0.75-1 dl of water
1 tablespoon of rapeseed or olive oil
PureSpelt flour for shaping chips
Marinade
3 tablespoons of rapeseed or olive oil
½ teaspoon of paprika
Chili flakes or curry powder
A little garlic powder according to taste
¼-½ teaspoon of salt
Avocado-tomato dip
1 avocado, cut into small cubes
1 tomato: cut in half, remove seeds, cut into small cubes
1 spring onion, finel chopped
2-3 tablespoons of vinegar
2-3 tablespoons of rapeseed or olive oil
Salt, pepper
1 tablespoon of basil, finely chopped
1
Mix together the flour, salt, water and oil and knead to form a soft dough. Cover and allow to stand for approx. 30 minutes.
2
Divide the dough into 12 equal portions and roll out each portion to form a disc of approximately 15 cm diameter. Using a non-stick coated frying pan, fry the dough discs in portions for 1-2 minutes. Remove the dough discs from the frying pan and wrap in a paper kitchen towel.
3
Cut the dough discs into triangular segments.
4
Marinade: Mix all the ingredients together well. Turn the dough triangles in the marinade, distribute them on 1-2 baking paper lined baking trays and bake for 8-10 minutes in the middle of an oven pre-heated to 200°C until crispy. Turn off the oven, slightly open the oven door and allow the tortilla chips to dry out and cool.
5
Dip: Mix together all the ingredients, season to taste and enjoy together with the tortilla chips.
Suggestion
Depending on personal taste, enjoy the chips with crème fraiche, herb curd cheese, hummus, tomato ketchup, etc.
Source:
IG Dinkel, Judith Gmür-Stalder