PureSpelt vegetable tartar
to serve 4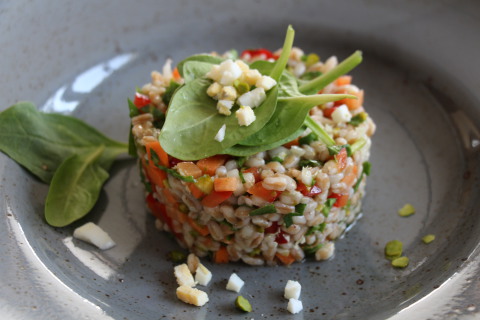 2.5 dl of water
125 g of PureSpelt kernotto

2-3 tablespoons of herbs, e.g. chervil and basil, finely chopped
250 g of mixed vegetables, e.g. carrots, kohlrabi (turnip cabbage), bunching onions, spinach, cleaned and washed, finely chopped
2-3 tablespoons of pistachio nuts, chopped
2 tablespoons herb vinegar
1 tablespoon of honey or concentrated pear juice
2-3 tablespoons of rape or pistachio oil
Salt, pepper
Garnishing
Spinach leaves
1 boiled egg, chopped
1 tablespoon of pistachio nuts, chopped
Chervil
1
Boil the water in a saucepan, add the PureSpelt kernotto and bring back to the boil. Cover the saucepan, turn off the heat and leave on the stove to swell for 60-90 minutes. Mix in the remaining ingredients and season to taste.
2
Use a forming ring to place the tartar on the plates. Press the tartar lightly into the ring and then carefully remove it. Garnish the tartar according to taste.
Suggestions
Enhance with cheese shavings or dried meat according to taste. Depending on the season, use other vegetables.
Source:
IG Dinkel, Judith Gmür-Stalder