PureSpelt cauliflower tabbouleh with chicken brochettes
to serve four, 8 brochettes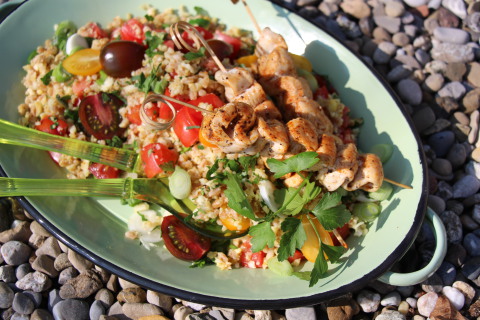 3 dl of vegetable stock
150 g of PureSpelt kernotto

1 cauliflower, approx. 500 g, prepared and washed
1 tablespoon of rape oil
1-2 garlic cloves, pressed
1 tablespoon of curry
2-3 spring onions, finely chopped
4 tomatoes, diced, and a few colourful cherry tomatoes
1-2 handfuls of herbs, e.g. parsley, mint
The juice of 1-2 lemons
5-6 tablespoons of rape or olive oil
Salt, pepper
Cumin, according to taste
Chicken brochettes
300 g of chicken breast, cut into strips
Salt
Pepper
Paprika
Rape or olive oil

Wooden skewers
Herbs for garnishing
1
Bring the vegetable stock to the boil, add the PureSpelt kernotto and bring back to the boil. Switch off the heat and leave to swell for 40-60 minutes.
2
Grate the cauliflower into grain-sized pieces using a coarse grater (rösti grater) or a cutter, stir fry in oil and if required add a little water. Add the garlic and the curry and continue to stir fry for a short while. Allow the mixture to cool slightly then add the remainder of the ingredients, mix together with the PureSpelt kernotto and season to taste.
3
Season the chicken, mix with the oil and then pierce in a wave-like form on the wooden skewers. Fry the chicken brochettes in suitable portions.
4
Distribute the tabbouleh on the plates, lay on the chicken brochettes and garnish with herbs before serving.
Suggestions
Depending on personal taste, add diced boiled egg, pieces of fried meat or pieces of fried fish to the salad. Depending on the season use a different vegetable.
Source:
IG Dinkel, Judith Gmür-Stalder