PureSpelt spaghetti-vegetable salad
to serve 4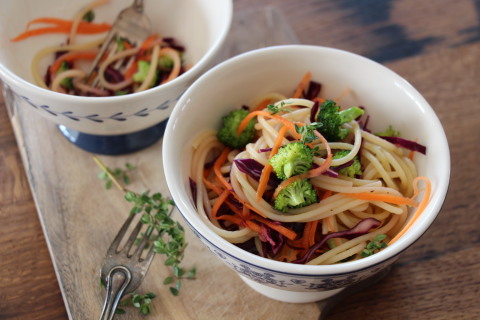 200 g of PureSpelt spaghetti or fine noodles
Dressing
The grated peel and juice of one lemon
2-3 tablespoons of rape oil
2-3 tablespoons of vegetable stock
1 tablespoon of sesame or nut oil, according to taste
1 garlic clove, pressed
Salt, pepper

Approx. 500 g of mixed vegetables, e.g. red cabbage, carrots and red onions, cut into strips
Broccoli, separated into individual florets
Spinach leaves

Leaves from a few sprigs of lemon thyme, also as garnish
1
Cook the pasta in boiling salted water as instructed on the packet until it is "al dente", drain off the water and rinse under cold water. Allow to drain.
2
To prepare the dressing, mix together all the ingredients and then season to taste.
3
Stir fry the vegetables in oil for a short time and then mix together with the dressing. Mix in the spaghetti or noodles, distribute evenly in the bowls, garnish with lemon thyme leaves and serve while still lukewarm.
Suggestions
Depending on personal taste, add diced boiled egg, pieces of fried chicken or pieces of fried fish to the salad. Depending on the season use a different vegetable. Sprinkle the salad with roasted seeds before serving.
Source:
IG Dinkel, Judith Gmür-Stalder