PureSpelt cake (without yeast)
for a cake tin 26-28 cm in length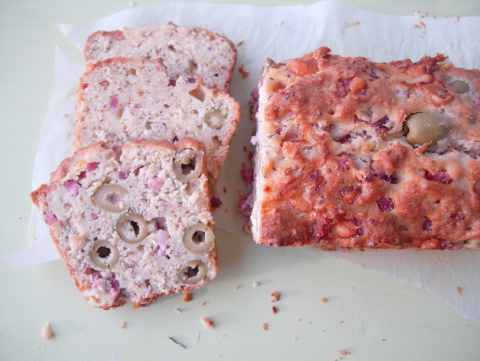 125 g butter
1 tablespoon of honey
3 eggs
1 teaspoonful of salt
Pepper from the mill
Chili flakes according to taste
1 teaspoonful of paprika
2 tablespoons of coarse-grained mustard
250 g of PureSpelt strong white flour with 20% whole grain
2 teaspoonfuls of baking powder
200 g of ham, diced
150 g of Gruyere cheese, diced
100 g of stoneless green olives
1 tablespoon of rosemary, chopped
1
Stir the butter until small peaks are formed. Add the honey, mix until the mixture turns light in colour. Add the eggs and spices, stir briefly. Sieve in the flour and the baking powder. Mix the ham, cheese, olives and rosemary into the flour. Pour the dough into the cake tin lined with baking paper and smooth off the surface.
Baking
Bake for 40-45 minutes in the middle of an oven that has been pre-heated to 180°C. Serve lukewarm or after cooling.
Tip
The cake goes well with salad, vegetables and grilled meats, or can simply be served as an aperitif.
Source:
IG Dinkel, Judith Gmür-Stalder