PureSpelt beetroot burger with fresh Goat cheese
Preliminary time: Overnight and 2-3 hours rising time
Preparation time: Approx. 1 hour
Baking or cooking time: Approx. 25 minutes
For 4-8 burgers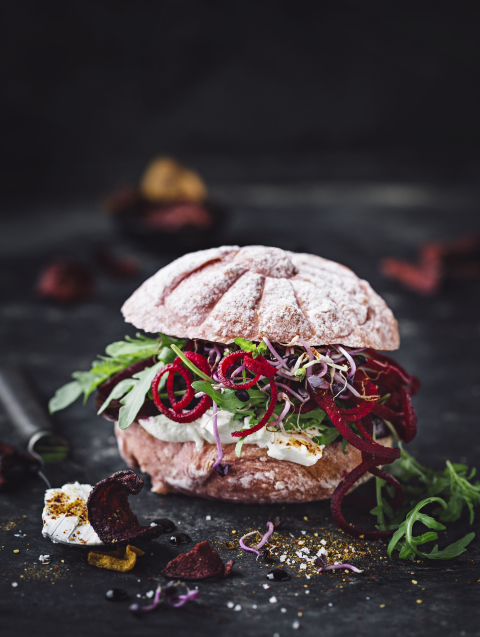 Bran mash
1.7 dl of water
140 g of PureSpelt half-white flour or half-white flour with 20% grist
Dough
400 g of PureSpelt half-white flour or PureSpelt half-white flour with 20% grist
1 1/2 teaspoons of salt
20 g of yeast, crumbled
1 dl of beetroot juice
Approx. 1.25 dl of water
1 teaspoon of apple vinegar
Flour for shaping
Filling
Approx. 250 g of fresh goat cheese or ricotta cheese
1-2 cooked beetroots, peeled, cut into slices
1 small uncooked beetroot, cut into fine ringlets or strips
1 handful of rocket salad
Red cabbage shoots
2-3 tablespoons of balsamic vinegar
2-3 tablespoons of olive oil or nut oil
Fleur de sel salt
A little Piment d'espelette pepper or curry powder
A few vegetable chips according to taste
1
To prepare the bran mash bring the water to the boil and while it is still boiling hot stir in the flour until the mixture is firm and uniformly smooth. Cover the mash and allow to cool. Place in the refrigerator overnight.
2
To prepare the dough, mix together all the ingredients up to and including the vinegar in a large bowl. Pluck in the bran mash. Carefully knead the dough by hand or using a dough hook on a food processor to form a smooth dough, not too hard and not for too long. Cover the dough and allow to rise for 2-3 hours until it has doubled in volume. Preheat the oven to 230°C.
3
Cut the dough into 8-12 pieces and form them into a hamburger bun shape on a floured surface. Lay the buns on a backing tray lined with baking paper and allow to rise for a short time. Then dust the buns with a little flour and using an apple cutter make a pattern on the top of each bun (flower pattern).
4
Reduce the oven temperature to 190°C, place the baking tray in the middle of the oven and bake for 20-25 minutes. Remove from the oven and allow the buns to cool on a grid.
5
Cut the 4-8 bread buns crossways in half, spread the halves with fresh cheese and distribute the remaining ingredients on the bottom halves of the buns and season to taste. Place the tops of the buns on the bases and serve together with vegetable crisps. Use any leftover buns either within a short time or deep freeze for later use.
Source:
IG Dinkel, Judith Gmür-Stalder, Photo: Anna Schramek-Schneider