PureSpelt asparagus strudel
for 1 strudel / serves 4 people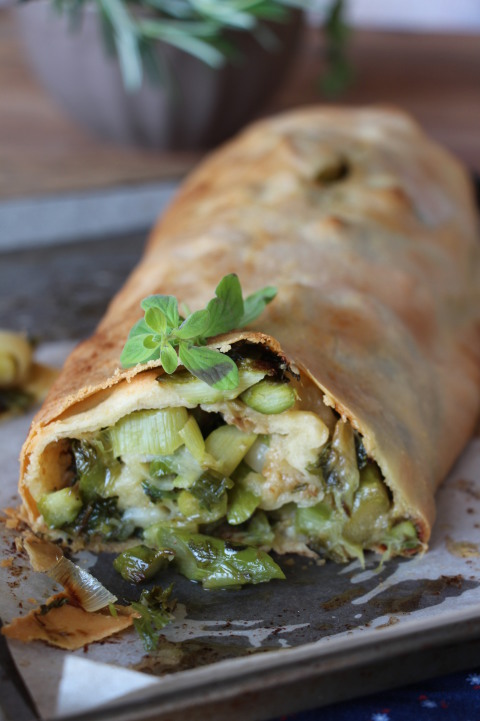 Baking paper for lining the baking tray
Strudel dough
200 g of PureSpelt half-white or white flour
¼ of a teaspoon of salt
1 egg
30 g of butter, melted
3-4 tablespoons of water

50-75 g of butter, melted, for brushing
Filling
1 bunch of spring onions, cut into rings
Butter for sautéing
500 g of asparagus, cleaned and cut into thin slices
1 leek, sliced into rings
Salt and pepper to taste
½ bunch of chervil, finely chopped

5 tablespoons of breadcrumbs
75 g of grated Gruyere cheese
100 g of double cream

Herbs to decorate
1
Dough: Mix together the flour and the salt. Add the egg, melted butter and water and knead to form a soft, smooth dough. Allow to stand for 30 minutes under a warmly rinsed bowl.
2
Filling: Sauté the spring onion rings in butter. Add the sliced asparagus and leek rings and continue to sauté. Add spices according to taste and mix in the finely chopped chervil. Remove from the heat and allow to cool.
3
Place the strudel dough on a floured kitchen towel and roll it out until it is as thin as possible. Brush the strudel dough with butter and spread the lower third with breadcrumbs and Gruyere cheese. Distribute the asparagus on the cheese and then spread evenly with double cream. Fold in the sides of the dough over the filling and with the aid of the kitchen towel roll up the strudel dough. Place the strudel roll on the baking-paper lined baking tray and brush it with butter.
Baking
Bake for 35-40 minutes in the lower half of an oven pre-heated to 200°C. During the baking, brush the strudel roll 2-3 times with butter. Before serving, cut into slices and decorate with herbs.
Source:
IG Dinkel, Judith Gmür-Stalder