Green PureSpelt Kernotto (PureSpelt risotto)
Serves 4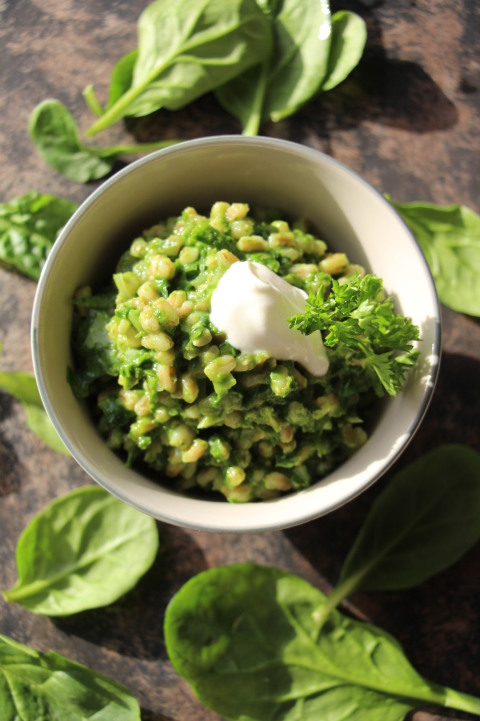 1 onion, finely chopped
2 garlic cloves, minced
Butter for sautéing
250 g PureSpelt kernotto (PureSpelt risotto)

100 ml white wine or vegetable stock
Approx. 700 ml vegetable stock
100 g baby spinach leaves
1 handful mixed herbs, e.g. thyme, basil and chervil
100 ml cream
Salt and pepper

100 g crème fraîche and herbs to garnish
1
Sauté the onion and the garlic in the butter. Add the PureSpelt kernotto and sauté briefly. Deglaze the mixture using the wine or vegetable stock, and allow to boil briefly. Add the vegetable stock, bring to a boil and then allow to simmer on a low heat while stirring frequently for 25-30 minutes. Turn off the heat and leave to thicken.
2
Puree the spinach leaves, herbs and cream in a blender and stir into the PureSpelt kernotto. Reheat the kernotto and then ladle into preheated bowls. Top with a portion of crème fraiche, garnish with herbs and serve immediately.
Suggestions
Serve with steamed spinach leaves or sprinkle with grated cheese. Alternatively serve topped with slices of steamed smoked trout.
Source:
IG Dinkel, Judith Gmür-Stalder