Colorful PureSpelt tortillas
Preliminary time: Allow to rise: approx. 2 hours
Preparation time: approx. 1 hour
To make approx. 12 tortillas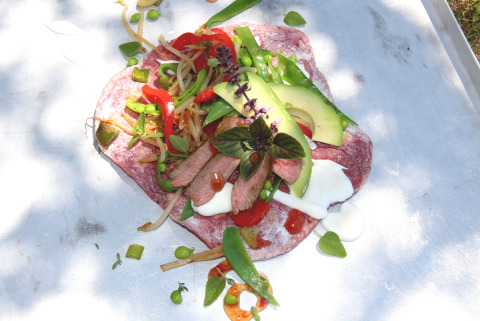 Colorful tortillas
300 g of PureSpelt white, half-white or brown flour
1/2 teaspoon of salt
1 tablespoon of beetroot powder, PureSpelt grass powder or cocao powder
1 tablespoon of olive oil or melted butter
Approx. 1.75 dl of lukewarm water
5 g of yeast, crumbled
Topping/filling
2 beef entrecôte steaks, each approx. 200 g
Baking butter or baking cream
Salt, pepper
A few lettuce leaves
2 spring onions or 1 leak, sliced into thin rings
300 g of sugar snap peas, prepared, blanched, cut in half
125 g of bean sprouts
1 yellow and 1 red bell pepper, cut into strips
1-2 tablespoons of olive oil or rapeseed oil
Salt, pepper
1-2 avocados, cut into wedges
200 g of crème fraîche or cottage cheese
Chili sauce
A few sprigs of basil, thyme and oregano
1
For the tortilla dough, mix together all the ingredients and knead briefly to form a smooth dough. Cover the bowl and allow the dough to rise for 1-2 hours, punching it down several times during this period.
2
Cut the dough into 12-16 equal pieces and roll out each piece of dough on a lightly floured surface to form roughly 2 mm thick, round flatbreads. Bake each flatbread on both sides briefly in a frying pan until light brown. Remove from the frying pan, roll up in a cloth and keep warm. All the dough should be processed immediately.
3
For the topping/filling, briefly fry the entrecôte steaks in the hot baking butter on both sides for 1-2 minutes and season according to taste. Place in an oven pre-heated to 80°C for between 30 to 40 minutes until cooked and then cut into thin slices.
4
Briefly stir fry the vegetables in hot oil and season according to taste. Dress the tortillas with salad, vegetables, meat, avocado and sauces, decorate with herbs, roll up as desired and enjoy.
Suggestions
According to personal taste, replace 100 g of the PureSpelt flour by cornmeal.
Replace the beef entrecôte steaks by chicken. Make sure the chicken is fried thoroughly.
Source:
IG Dinkel, Judith Gmür-Stalder