PureSpelt root soup
Preparation time: approx. 45 minutes
Recipe from the new PureSpelt cookbook, to serve 4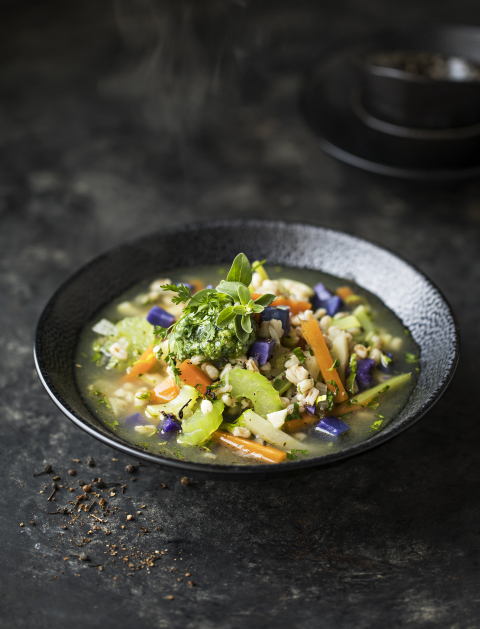 Soup
1 onion, finely chopped
1 clove of garlic, pressed
1 tablespoon of butter or rapeseed oil
200 g of carrots, peeled and cut into thin sticks
100 g of parsnips or parsely root, peeled and cut into thin sticks
100 g of stick celery, cut into slices
100 g of PureSpelt kernotto
Approx. 1.5 l of vegetable broth
150 g of boiled purple potatoes, peeled and diced
Salt, pepper
1 tablespoon of majoram, chopped
Chervil pesto
1 bunch of chervil
2-3 tablespoons of peeled almonds
3 tablespoons of grated parmesan or sbrinz cheese
Approx. 1 dl of olive oil
Salt

Majoram, chervil and pepper for decoration
1
For the soup, briefly sauteé the onion and garlic in the butter. Add the vegetables and continue to sauteé. Add the kernotto, continue to sauteé for a short time and deglaze using the vegetable broth. Bring to the boil and simmer for 40-45 mintues on a low heat until soft. Add the boiled potato cubes to the soup for the final 2-3 minutes to become hot. Add the majoram and season to taste.
2
For the chervil pesto, finely chop or crush the chervil, almonds and cheese in the cutter or mortar, mix together well with the oil and season according to taste.
3
Divide the soup into the preheated bowls. Distribute the chervil pesto over the soup and decorate with majoram, chervil and pepper according to taste.
Suggestions
The soup goes well with PureSpelt bread, sliced or dried meats and a chunk of cheese.
Source:
IG Dinkel, Judith Gmür-Stalder