PureSpelt herb semolina with "snail" sausages
Preparation time: approx. 45 minutes
To serve 4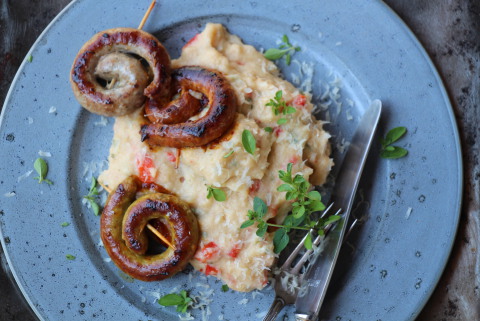 PureSpelt herb semolina
1 onion, finely chopped
1 garlic clove, pressed
1 red chili, cut into rings, deseeded
1 red pepperoni, finely diced
1 tablespoon of butter
Approx. 5 dl of vegetable stock
5 dl of milk
150 g of PureSpelt semolina
1/2 bunch of majoram, finely chopped
Salt, pepper
Sausages
8-12 small sausages, e.g. "Schnecken" (coiled "snail" sausages)
Cooking butter or rapeseed oil
Majoram and a little grated Gruyère cheese for garnishing
1
For the semolina, sauteé the onion, garlic, chilli and pepperoni in the butter. Deglaze with the vegetable stock. Add the milk and bring to the boil. Stir in the semolina and cook over a low heat for 10-15 minutes until it has a porridge-like consistency.
2
Fry the sausages in the hot cooking butter or rapeseed oil until crispy on both sides.
3
Mix the majoram into the semolina porridge and season to taste. Serve the semolina on plates or in bowls. Add the sausages, garnish and serve while hot.
Suggestions
A colorful mixed salad is ideal as a side dish.
Instead of sausages, serve with stewed meat, meatballs, fried tofu or a fried egg.
Source:
IG Dinkel, Judith Gmür-Stalder