Unripe PureSpelt grain and vegetable stew
Preliminary time: Leave to soak overnight
Preparation time: approx. 30 minutes
Baking or cooking time: approx. 90 minutes
To serve 4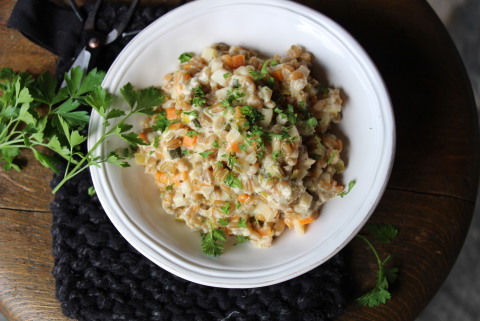 200 g of green PureSpelt grain
7.5 dl of water
1 onion, finely chopped
1 tablespoon of butter
400 g of vegetables, e.g. carrots, cellery and leek, prepared and diced into small cubes
1 dl of white wine or non-alchoholic apple wine
Approx. 2 dl of vegetable stock
150 g of herb cream cheese, e.g. from Gala
1/2 a bunch of parsley, finely chopped for garnishing
Salt, pepper
1
Soaking the green grain: Soak the green grain overnight in plenty of water.
2
Drain the green grain. Put the grain in a saucepan with 7.5 dl of fresh water and bring to the boil. Cook for 40-45 minutes. Turn off the heat and leave to swell for 1 hour before draining off the water. Leave in the sieve to drain thoroughly.
3
Stew: Sauteé the onion in the butter. Stir in the vegetables and sauteé further for a short time. Add the green PureSpelt grain and deglaze with the wine. Pour in the bouillon and cook covered for 30-40 minutes until soft. Stir in the herb cream cheese and parsley and season to taste. Divide the stew into preheated bowls, garnish and serve while hot.
PureSpelt green grain is available from the
Online-Shop
.
Source:
IG Dinkel, Judith Gmür-Stalder