PureSpelt semolina spinach balls
Preliminary time: allow to soak for 30-60 minutes
Preparation time: approx. 1 hour
To serve 3-4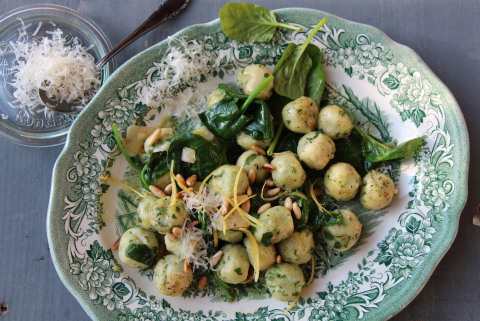 Semolina spinach balls
250 g ricotta or quark cheese
175 g of PureSpelt semolina
50 g of Sbrinz AOP cheese, grated
1 handful of spinach, finely chopped
1 teaspoon of salt
Nutmeg
Pepper
1/2 an organic lemon, grated rind
1 egg yolk
Garnish
50 g of pine nuts
2-3 cloves of garlic, thinly sliced
A little frying butter or rapeseed oil
50-100 g of butter, cut into pieces
1-2 handfuls of spinach
Salt, pepper to taste
Sbrinz AOP cheese, grated
1/2 an organic lemon, thinly peeled and peel cut into fine strips
1
Put all the ingredients for the balls into a bowl and mix well. Cover and leave to soak for 30-60 minutes.
2
Form finger-thick rolls from the semolina, cut into 2-3 cm long pieces. Roll each piece into a ball by hand and place on baking paper. Bring the water to the boil and add the salt. Add the balls to the water in portions and allow them to rise to the surface. Remove the balls using a skimming spoon, drain well and keep warm.
3
For the garnish, fry the pine nuts in the frying pan and then remove from the pan. Fry the garlic slices in the frying butter. Add the butter pieces to the frying pan and leave to heat. Add the spinach and allow to sauté for a short time. Season to taste, mix together with the PureSpelt semolina balls and arrange on pre-warmed plates. Decorate with the fried pine nuts, Sbrinz grated cheese and lemon zest and serve immediately.
Source:
IG Dinkel, Judith Gmür-Stalder