PureSpelt kernotto with wild rye
Preparation time: ca. 45 Minuten
To serve 4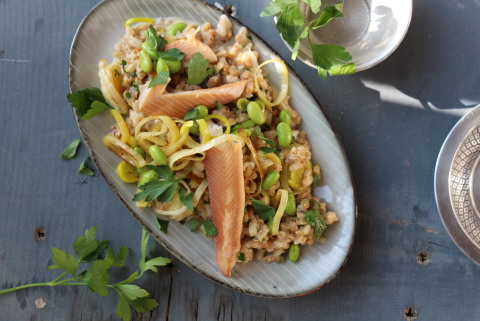 PureSpelt kernotto with wild rye
1 onion, finely chopped
1 tablespoon of butter or rapeseed oil
300 g of PureSpelt kernotto mixed with wild rye or PureSpelt kernotto
Approx. 7 dl of vegetable stock
1 dl white wine or non-alcoholic cider
1 dl cream
Salt, pepper to taste
Garnish
75 g of leek or bundle onions, cut into rings
1 tablespoon of butter or rapeseed oil
200 g of edamame or peas, blanched
200 g of smoked trout fillets, in pieces
Salt, pepper to taste
A few drops of lemon juice
3 tablespoons of smooth-leaved parsley, finely chopped, and a little for decoration
1
For the Kernotto, sauté the onion rings in the butter. Add the Kernotto, sauté further and deglaze using the stock. Simmer for 30-35 minutes, stirring frequently.
2
For the garnish, sauté the leeks or onions in the butter. Add the edamame and trout to warm them briefly and season to taste. Mix in the lemon juice and parsley.
3
Refine the Kernotto using the wine. Add the cream. Mix part of the garnish with the kernotto and spread on preheated plates. Top off with the remaining garnish and serve immediately.
Suggestions
Instead of the trout, use tofu, fried chicken or roast meat leftovers.
Wild rye is an ancient cereal from the sweet grass family. It is a robust bread cereal and a deep-root cereal that leaves well loosened soil.
PureSpelt
kernotto mixed with wild rye is available from the
Online-Shop
.
Source:
IG Dinkel, Judith Gmür-Stalder