PureSpelt kernotto bowl
Preparation time: approx. 30 minutes
Baking or cooking time: approx. 25 minutes
To serve 4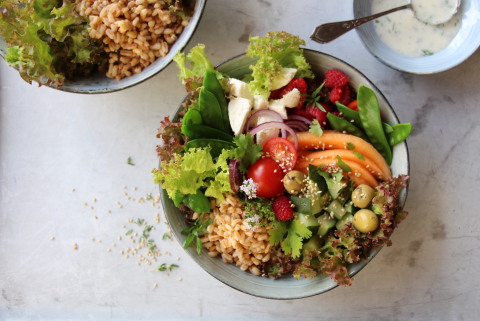 PureSpelt kernotto
3 dl of vegetable stock
200 g of PureSpelt kernotto
Sauce
1/2 an organic lemon; grated rind and juice
4 tablespoons of natural yoghurt
1 tablespoon of honey
3-4 tablespoons of rape seed oil
3-4 tablespoons of vegetable stock
2 tablespoons of parsley, finely chopped
Salt and pepper to taste
Bowl
2-3 handfuls of lettuce leaves, e.g. Lollo
150 g of blanched peas
1/2 a cucumber, diced
1/4 of a melon, e.g. cavaillon, cut into fine slices
A few cherry tomatoes, halved
1-2 handfuls of raspberries, halved
A few olives
200 g of ricotta or feta cheese, diced
1/2 a red onion, sliced into rings
A few sprigs of parsley
1-2 tablespoons of sesame seeds
1
Kernotto: Bring the vegetable stock to the boil. Add the kernotto and cook for 20-25 minutes over a low heat, stirring occasionally. Add a little water if necessary. Allow to swell briefly.
2
Sauce: Stir all the ingredients together well and season to taste.
3
Bowl: Spread the salad equally in the bowls. Add the remaining ingredients and garnish with parsley and sesame seeds. Sprinkle with the sauce shortly before serving.
Source:
IG Dinkel, Judith Gmür-Stalder