PureSpelt elbow macaroni (Hörnli) and minced meat soup
Preparation time: approx. 40 minutes
To serve 4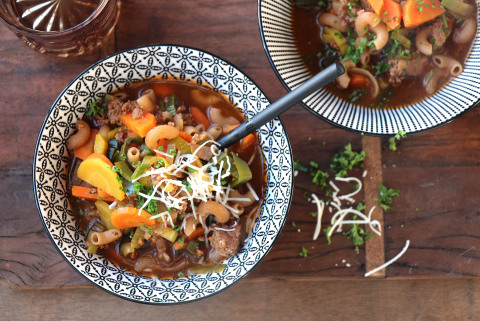 400 g of minced meat, e.g. beef
Frying butter or rape seed oil
3 tablespoons of tomato puree
1 onion, finely chopped
1 garlic clove, pressed
400 g of carrots, halved, sliced
200 g of leek, finely diced
1 tablespoon of paprika
A little chili, according to taste
1 tablespoon of marjoram
1.25 - 1.5 l of vegetable stock
150 g of PureSpelt elbow macaroni (Hörnli)
Salt and pepper to taste

2-3 tablespoons of parsley or chives, finely chopped as decoration
1
For the soup, fry the minced meat in the frying butter or oil. Add the tomato puree and continue to fry briefly. Add the onion and garlic and sauté. Add the vegetables and continue to sauté briefly, season to taste and deglaze using the vegetable stock. Bring the soup to the boil, cover and cook the vegetables until they are just tender.
2
Add the macaroni, cook al dente according to the package instructions, adding a little stock to maintain the volume as required. Divide the soup into preheated bowls, sprinkle with herbs and serve immediately.
Suggestions
Serve sprinkled with grated cheese according to taste.
Add other seasonal vegetables.
Source:
IG Dinkel, Judith Gmür-Stalder