PureSpelt basil noodles
Preliminary time: approx. 30 minutes: to allow to rise
Preparation time: approx. 45 minutes
To serve 4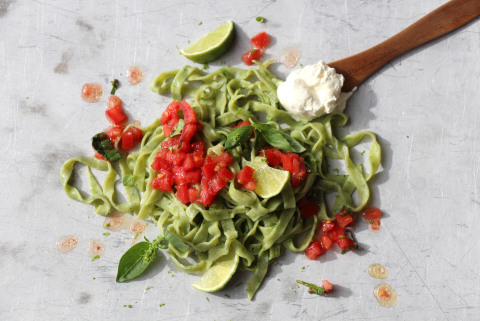 Pasta dough
250 g of PureSpelt half-white or white flour
100 g of PureSpelt grain or semolina
1/2 teaspoon of salt
40 g of basil leaves
2 tablespoons of olive oil or rapeseed oil
Approx. 1.25 dl of water, cold
Sauce
4 cans or jars of tomatoes, finely diced
2-3 tablespoons of basil, finely chopped
The grated peel and juice of one organic lime
3-4 tablespoons of olive oil or rapeseed oil
Salt, pepper

Lime wedges, basil leaves and crème fraiche to taste for the garnish
1
For the pasta dough, mix together the flour and grain or semolina. Finely puree the salt, basil, oil and water, add to the flour and knead the mixture briefly to form a smooth, firm dough. Cover the mixing bowl and allow to stand at room temperature for 30 minutes.
2
For the sauce, mix together all the ingredients, season and leave to stand briefly.
3
Using the pasta machine, roll out the pasta dough in portions to a thickness of about 2 mm and cut into noodles. Sprinkle the noodles with a little flour or grain and store only briefly on a kitchen towel.
4
Cook the noodles in boiling salted water for 2-3 minutes while maintaining the water at boiling point. Pour off the water and drain well. Arrange the noodles on plates, garnish with the sauce, lime wedges, crème fraiche and basil and serve lukewarm.
Source:
IG Dinkel, Judith Gmür-Stalder