PureSpelt Caesar salad
Preparation time: approx. 45 minutes
To serve four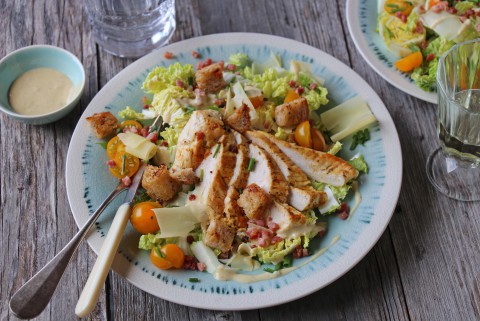 Sauce
2 tablespoons of white wine vinegar
4 tablespoons of rapeseed oil
100g of crème fraiche
1 garlic clove
2-3 anchovy fillets, hot rinsed
1 teaspoon of mustard
Salt, pepper, paprika
Salad
A romaine lettuce or Chinese cabbage, cut into strips
100 g of diced bacon
4 small chicken breasts
Salt, pepper, paprika
A little frying butter or rapeseed oil
A few rolls of sliced cheese (hobelkäse), shredded
1-2 handfuls of yellow cherry tomatoes, halved
Chives, finely chopped, for garnishing
PureSpelt croutons
Approx. 300 g of PureSpelt bread, diced
2-3 tablespoons of butter or olive oil
1
For the sauce, finely puree all ingredients, season according to taste and refrigerate.
2
Arrange the romaine salad or Chinese cabbage slices equally on the four plates. Sauté the bacon cubes and remove them from the pan. Season the chicken breasts and fry them in the frying butter or olive oil for 3-4 minutes on each side, leave to simmer briefly. Arrange the remaining ingredients for the salad on the plates, cut the chicken breasts into slices and arrange on top.
3
Fry the PureSpelt bread cubes in the butter or olive oil until crispy. Drizzle the sauce over the salad, sprinkle with the PureSpelt croutons, garnish and serve while still fresh.
Source:
IG Dinkel, Judith Gmür-Stalder